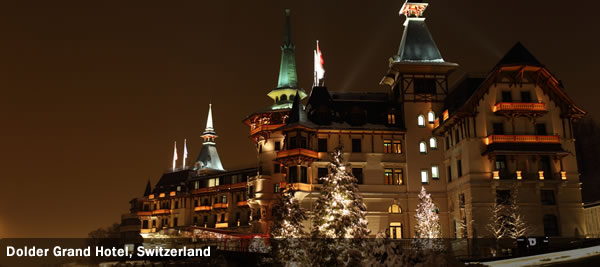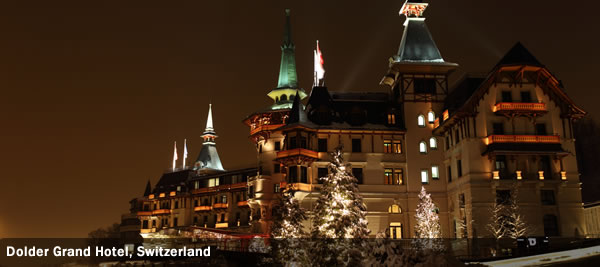 Switzerland, land of milk and honey; its foresight in deciding not to join the European Union could be seen as an attribute contributing to its enduring calm. Instead of a mountain of debt, Switzerland has the Alps, fondue and a lesser known secret; great wine, which they quite rightly refuse to export.
One entry point to this buffer state is Zurich, and there is no better place to rest your head than in the Dolder Grand Hotel, just 25 minutes from Zurich International Airport.
Once you meander up winding roads, the hotel appears to erupt like a cork from a bottle of Cristal. Shimmering and twinkling, my first thoughts are of the huge electric bill, indoctrinated austerity measures from a non-Swiss national. After wonderment subdues, Lake Zurich's breath-taking views of can be seen in the distance.
In 2008, Lord Norman Foster, the gloriously famous architect, was commissioned to reinvigorate the hotel. Foster added two curved wings, a spa wing and the golf wing, to the 1899 main building, reportedly claiming that they were like lips 'kissing' the grand dam. The four year project produced 173 rooms, two Michelin star restaurants and a 4000 square meter spa. All rooms face the lake and are kitted out in Bang and Oulfsen gear, right down to the light dimmer.
Art is a strong feature of the hotel, Andy Warhol is hung over the reception and Salvador Dali is in the restaurant. As life usually had it, Andy Warhol was hung-over and Dali was in the restaurant. Abstract homeless placards are hung in the entrance to the lobby, obviously post-ironic humour, as the price of a room starts at 500 Euros per night.
The spa is separated into single sex zones. With a mediation walk before you enter the spa, just to get you in the perfect mood. Baths, saunas and plunge pools including a terrace with whirlpools that overlook the city are at your disposal.
The fantastically aptly named 'The Restaurant' is the only 2 Michelin Star restaurant in Zurich; fine dining at its best. The builders discovered the original ceiling when they renovated and kept its pristine artwork, this forms a highlight of the restaurant along, of course, with the excellent cuisine.
The Garden Restaurant is open all year round and serves seasonal specialities such as sliced fillet of veal Zurich style and black tea panna cotta with rum marinated fruits and cacao ice cream.
There is a ballroom and a banqueting suite where many high profile launches are held, such as the new Audi A3, unfortunately the car wasn't offered as a freebie.
Once you have sampled Zurich the next logical step would be to travel to St Moritz. Read On As We Travel to St Moritz….
The Dolder Grand
Kurhausstrasse 65, 8032, Zurich, Switzerland,
Phone + 41 44 456 6000
www.thedoldergrand.com
Travel With Aer Lingus:
"Aer Lingus operate three weekly flights from Dublin to Zurich on Tuesday, Thursday and Saturday. One-way fares start from 49.99 Euro including taxes and charges. For more information on fares and schedules and to book log on to www.aerlingus.com"