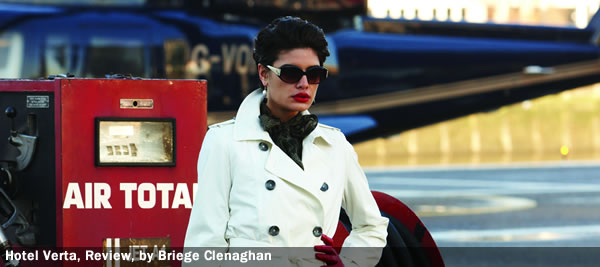 Sometime, just sometimes, you don't want to walk. On those, oh so days of ease, you need to fly in, fly out, no time for overheating tubes or worn heels, you need a helicopter. You need Verta by VonEssen – the hotel for the flying kinda guy and gal.
Located on the Thames, the far side of Battersea, Hotel Verta is primed for premium hospitality, for the incognito stay. Sun glasses are optional, but with star quality soaring through the lobby, they are a prudent precaution.
Verta's helipad is not just decked out acreage, it's for real, and for those who need to be in London on their own schedule, and not that of the working nine to five o'class. All rooms are installed with a river view – on one side you can see right down as far as the London Eye.
If your expense account isn't going to push to a chopper on demand, Heathrow by car is quite handy. Nip in for breakfast, lunch or dinner, watch the helicopters land beside your main course, and sigh sweetly, you've landed on your feet, but you feel like you're floating.
All bedrooms are triple glazed and very high tech, not least the flat screen TV in the bathroom. The aeronautical theme to the décor leans back to an era when flying was the preserve of the upper class, the glamorous, those for whom hand luggage meant someone else was carrying it.
With a touch of art deco the colour schemes are rich, bold, adorned with opulent fabrics; silk and velvet enfold and soothe. The rooms are curved, hugging the slopes of the elegant edificio – it was surely a bit of a challenge to the interior designer, but they managed to work with the shapes, sweeping grace through the gentle spaces. I was flying in, and out, in a hurry, so the comfort of VonEssen's own patented bed was the winning adornment, green pastures for the jet lagged.
On my watch, breakfast was cooked freshly to order, and the bar, though unseen at breakfast (this is the twenty first century, not 1930s) held court with Philip Stark chairs supporting a promising cocktail and select wine range.
The conference facilities were amazing, even for one so used to the inside of seminar rooms, with inspiring views over the river and heliport; andthe flexibility of the room offering can ensure your team is embraced with the right amount of ambient space.
My favourite room was the sensational top floor, sculpted with panoramic London, almost 360 degrees. It's available for conferences, product launches and drinks receptions. Pricing is not through the roof, it's based on spend per head for drinks, so roughly £30 per head upwards for 100 people. As every trainee pilot and seminar lead knows, Kelly McGillis got the altitude about right in Top Gun when she almost said: "Take me to Verta, or lose me forever…