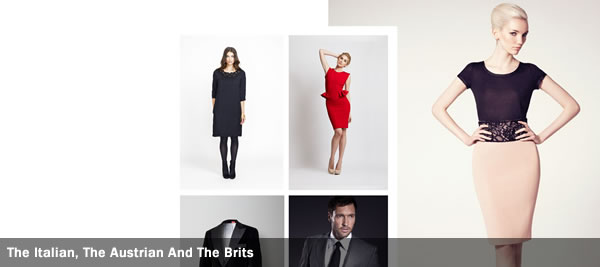 This month we feature three rock-steady design teams, Italian luxury brand 'Jexika' led by Jessica Rampezzotti, tailor-made excellence by Austrian-born Oscar Usedi, and the chic informality of 'Allium B' the London-based sister act, Clare and Mary Burgess.
Allium B's perfectly cut Autumn-Winter collection starts with versatile dresses blending the chic of original vintage pieces reworked to create beautifully detailed modern dresses – no nasty polyesters, just gorgeous silks, crepes and georgettes in this season's deepest green, teal, wine, midnight blue and black.
The Burgess girls' collection features extended shoulder button back shifts and tulip-hemmed soft tunics, which can be worn loose or belted for a more fitted silhouette. Understated, wearable shapes are given an edge with gorgeous detailing: 1920's inspired embroidery on a belt or a hand stitched statement neckline.
Of Austrian and Zanzibar parentage, Oscar Udeshi was born and raised in the former British colony of Hong Kong. In London he read economics and philosophy at the London School of Economics, before embarking on a career as a banker at a prestigious financial institution in The City. Leaving finance, he trained under one of the last remaining bespoke shirt makers of Jermyn Street and created the label Udeshi in 1999. Udeshi's defining featuring are ultra-luxe bespoke menswear tailoring with a contemporary edge.
Milan-born Jessica Rampezzotti fuses paired down Milano chic with the easy glamour of the Riviera for her 'Jexika' brand. Jessica draws inspiration from icons of Italian Luxury, combined with her intuitive sense of style, and what she describes as "the international power woman's lifestyle". Consistently brilliant at creating collections suited to the office or a black tie party, we've featured creations from her previous two seasons. Next month we bring you something special for the winter season.
www.jexika.com
www.alliumb.com
www.udeshi.co.uk
Contact the Editor Responsible for this Story:
Brian Maguire – brian.maguire@europeanbusinessexpress.com
Follow us on Twitter: @ebxnews
Facebook: EBX News
Share this