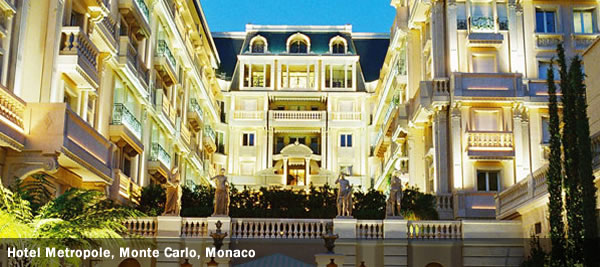 Monte Carlo, by helicopter. It's the only form of suitable transport in the Principality of Monaco. Untouched by the world's economic hardship, Monaco is keeping step with its reputation for elegant decadence, it's business of course, what pleasure could one actually have in Monte Carlo?
With direct flights from Nice airport running very thirty minutes Monaco is just eight minutes from civilisation. In the blink of an eye, the Hotel de Paris arrives in view.
Over one hundred years old, the Hotel de Paris stands like a matriarch in Monte Carlo's Place du Casino. It's difficult to measure culinary perfection in a region where there are more Michelin starred chefs than almost anywhere else in the world, but the 3 Michelin Stars awarded to the Louis XV Alain Ducasse restaurant is the standard against which to measure the rest.
In 2012 it has celebrated 25 years of Alain Ducasse in the Hotel de Paris, and the celebratory menu is a melange of all the best cuisine through these years. Sample nine courses with accompanying wines until December; we recommend the farmed rabbit and Piedmont hazelnut Soufflé.
Just across the Lamborghini laden square, is the Hotel Metropole, shy behind unassuming gate lies the entrance to yet another of Monte Carlo's finest secrets. Adding sparkle to the Metropole's sophistication, French Chef Joel Robuchon presides over spectacular cuisine. Robuchon holds a record 28 Michelin stars. There is no other chef who has achieved such a high distinction from the world's most famous restaurant guide. His most recent offering is Yoshi, his first Japanese restaurant. In March 2010 Yoshi was awarded its first Michelin star. The dining room only seats 35 people and is purposefully casual.
A mere meander in a vintage Rolls Royce brings guests through the mountains from Monte Carlo to the Chateau St. Martin on the Cote D'Azur. The chateau sits in a 35 acre park with 300 olive trees and housing 39 junior suites. Rooms at the Chateau are decorated in Louis XV and Louis XVI styles; and the view over the town of Vence compels an intake of breath and quiet surprise.
At the helm of Les Saint Martin Restaurant in the Chateau is Michelin starred chef, Yannick Franques, a former student of Alain Ducasse. Feast on white truffles from Alba, Lamb from Quercy and Grand Cru Tainon desert, 64% cacao, bitter sweet dark chocolate. Then repent with La Prairie, the brand of choice for the spa. The Swiss brand has a long history in anti-aging therapy; treatments include caviar firming facials are offered to hide the excess of the years.
For a treat this winter, head to the south of France and the principality of Monaco, rediscover the pace of life you've been dreaming about all year.
Information:
Aer Lingus fly to Nice from Dublin go to www.aerlingus.com to book.
Heli Air Monaco
Avenue des Ligures
MC98000
Monaco
Tel: +377 98 98 87 11
Website: www.heliairmonaco.com
Hotel De Paris
Place Du Casino
MC98000
Principality of Monaco
Tel: (+377) 98 06 30 00
Fax: (+377) 98 06 59 56
Website: www.hoteldeparismontecarlo.com
Email: resort@sbm.mc
Hôtel Métropole Monte-Carlo
4, avenue de la Madone
BP 19, MC 98007
Principality of Monaco
Tél (+377) 93 15 15 15
Fax (+377) 93 25 24 44
Website: www.metropole.com
Email: metropole@metropole.com
Château Saint-Martin & Spa
2490 Avenue des Templiers,
BP 102, 06142 VENCE
Tel: (+ 33) (0)4 93 58 02 02
Website : www.chateau-st-martin.com
Email : reservation@chateau-st-martin.com
Contact the Editor Responsible for this Story:
Brian Maguire – brian.maguire@europeanbusinessexpress.com
Follow us on Twitter: @ebxnews
Facebook: EBX News