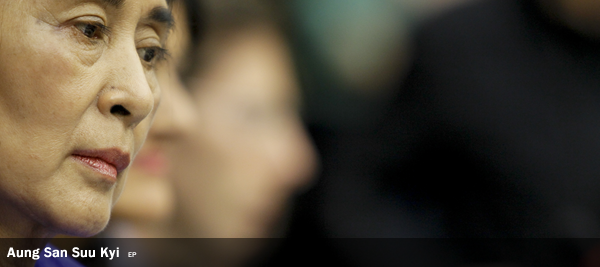 Myanmar/Burma militant and parliamentary opposition leader finally received the Sakharov Prize, awarded to her in 1990, at a ceremony in Strasbourg on 22 October. Ms Suu Kyi was released from house arrest three years ago. The prize was presented at a special ceremony during the plenary session, chaired by European Parliament President, Martin Schulz.
"You defended "freedom of thought"throughout your whole life. You struggled, you suffered and – you won. There is still a long way ahead of you and your country, but you have won. The values you have fought for have been stronger than the oppressive regime," said President Schulz.
"As a politician, and leader of the opposition today, your responsibility towards your compatriots who look up to you and expect you to deliver on their demands is immense. You have supporters not only in your country, but in many countries all over the world, including the EU member states. We count on you too," he added.
"Freedom of thought is essential for human progress. It is important to teach young people to ask questions. 'Why' is one of the most important words in all languages," said Aung San Suu Kyi, when she received her prize.
She said her country was making progress on the path to democracy and to freedom of conscience and thought for all people. However, she stressed that more still remained to be done. "We will not achieve perfection, but we want that the laws of the land and the constitution one day will allow all people of our country to live in human dignity; we want that freedom of thought will be a birth right of each citizen," she added.
The European Parliament awarded the Sakharov Prize to Aung San Suu Kyi in 1990 in recognition of her fight for democracy and the rule of law in Myanmar/Burma, while she was under house arrest. She was released in November 2010 and her party won 43 out of the 45 seats available in the parliamentary by-elections in April 2012. Ms Suu Kyi is currently the leader of the parliamentary opposition.
Ms Suu Kyi spent more than a decade under house arrest. She was first convicted in 1989 by the military regime for heading the democracy movement. Although her party, the National League for Democracy (NLD), won the 1990 elections, the military regime hung on to power by imposing martial law and urged her to go into in exile. Ms Suu Kyi refused and was kept under house arrest until 1995. In 2003, she was once again detained, along with other NLD members, and remained under house arrest until 2008 when her detention was extended for anther year and a half. She was finally released in November 2010.
The European Parliament repeatedly called for the immediate and unconditional release of Ms Suu Kyi and other political prisoners, inter alia in a campaign launched in June 2009 when a giant portrait of her was displayed outside its Brussels building with the slogan "Free Aung San Suu Kyi now".
Parliament awards the Sakharov Prize each year to honour individuals or organisations campaigning for human rights and fundamental freedoms. Launched in 1988, the prize is named after Andrei Sakharov, the Soviet physicist, political dissident and Nobel Peace Prize winner.
Share this