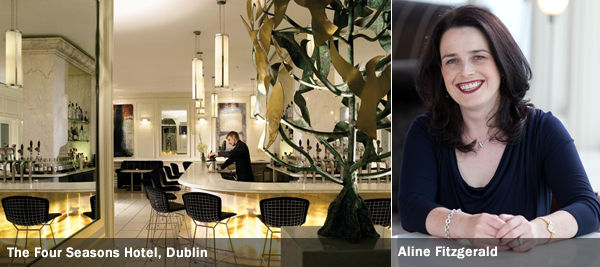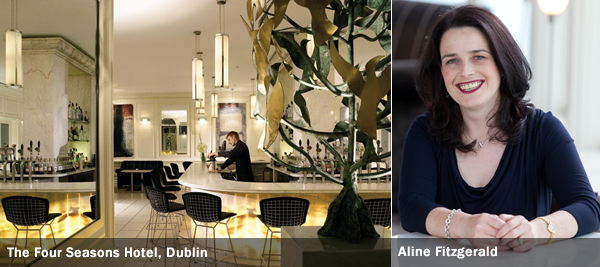 European Business Express sat down for a Q&A with Aline Fitzgerald, Sales & Marketing Director, Four Seasons Hotel, Dublin, Ireland.
"Success is a science; if you have the conditions, you get the result." Oscar Wilde, Irish Poet, Novelist, Dramatist and Critic, 1854-1900
EBX: What motivates you most – in practical terms, and in emotional terms?
AF: In practical terms it's really knowing what the goal is and having a clear direction of what needs to be achieved. I receive a huge sense of accomplishment in the knowledge that I and the team have contributed towards achieving an end result that exceeds customer expectation again and again. In emotional terms, I enjoy helping people reach their own potential, observing growth in them and ultimately helping them fulfil their dreams/ambitions.
EBX: Who have you learnt most from? What are the five key lessons you learnt from them?
AF: Julia Nettles Bey, Manager of Personal Shopping, Tiffany & Co, New York
Five Key Lessons:
Have a 360 view on the business
Remember everyone is a potential customer
Be creative – think outside of the box
Have excellent attention to detail
Have clarity in communication
 EBX: Which nations do you admire most in terms of business acumen? Why?
AF: As an Irish business woman, I've got to say Ireland. We're a small nation but full of pride and determination. I feel very optimistic that we are on the road to economic recovery and that we will come out stronger than before.
EBX: Who are your leadership role models? Why? Five please, at least two women; at least two Europeans.
Miriam O'Callaghan, TV Presenter on RTE (National broadcaster) – I love watching her host her show, her ability to take control of the conversation, speak to any topic is impressive. Also her ability to host an event is wonderful to watch. She is so articulate and has such knowledge and confidence.
Catherine Fulvio, Irish TV Chef, Owner of Ballyknockan Cookery School – she has worked hard to build a very successful business and her profile Internationally. Catherine is the perfect host whenever you visit her school, as gracious in reality as the image she portrays on TV, incredibly engaging to her audience and is always cheerful.
JK Rowling, Author – she is an extraordinarily powerful woman who has achieved so much in such a short time and yet remains very humble about her achievements. She has a tremendous creative for force in all that she does. She has a sparkle about her and appears to be very down to earth when being interviewed.
Pat Falvey, Irish Adventurer, Environmentalist, Author – he won me over when I attended one of his motivational speeches. Having become a millionaire with his own business at a young age he then lost everything but he refocused and rebuilt his business and an adventure career out of adversity.
Mary McAleese, Former President of Ireland – she is a wonderful woman who showed the world that determination, courage and passion are essential qualities in such a role. I believe it was this humanising of the position of President that helped to drive her success and means she will always remain in our hearts.
EBX: What is the single most important principle for creating a successful business?
AF: A clear vision of what you want to achieve is paramount and this needs to be communicated to the right team with precision. It also needs to be dynamic and creative to meet today's challenges.
EBX: What is your single most important source of inspiration, and why?
AF: Simply it's having the will to succeed and making the most of every situation. As Oscar Wilde said: "Success is a science; if you have the conditions, you get the result."
Contact the Editor Responsible for this Story:
Brian Maguire – brian.maguire@europeanbusinessexpress.com
Follow us on Twitter: @ebxnews
Facebook: EBX News