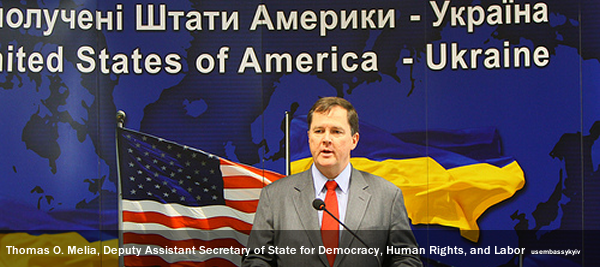 Deputy Assistant Secretary for Democracy, Human Rights, and Labor Thomas O. Melia, will lead an interagency delegation to Kyiv, Ukraine for the sixth meeting of the U.S.-Ukraine Political Dialogue/Rule of Law Working Group, October 21-25. The delegation will include Paige Alexander, Assistant Administrator of the U.S. Agency for International Development and Catherine Newcombe, Regional Director of the U.S. Department of Justice's Office of Overseas Prosecutorial Development program.
The Working Group will discuss Ukraine's progress on judicial and legal reform; political process, including electoral reform; and democratic development, including media freedom, as it seeks to sign an Association Agreement with the European Union at the Eastern Partnership Summit in Vilnius, Lithuania at the end of November.
The Working Group, which was established in November 2010, is co-chaired by Mr. Melia and by Ukrainian Presidential Advisor for Judicial and Law Enforcement Reform Andriy Portnov. Other participants in the Working Group include officials from the U.S. Department of Justice, the Ukrainian Ministries of Justice and of Foreign Affairs, and observers from civil society and non-governmental organizations. While in Ukraine, the delegation will also meet with members of the media and civil society organizations.