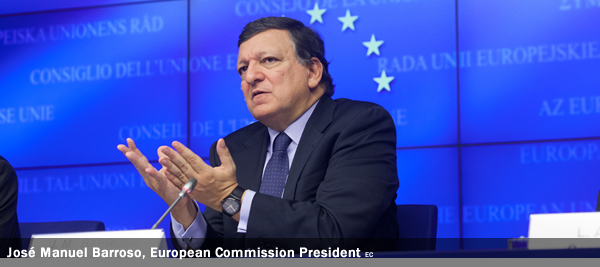 David Cameron is always convinced the EU is losing a few pounds, but more evidence of health fads at the Commission emerged post-Summit. Gone was mention of a well-toned financial Six-Pack, but, wait for it, we're all buzz with REFIT… Jose Manuel Barroso, President of the European Commission, is King of the Political Treadmill, but everyone left the Summit marathon wondering if it really did them any good. Barroso was all chat about tackling political crime, but his press team didn't mention the illegal tapping of EU leaders' phones… So, here are your highlights.
Barroso was convinced the Summit contained: "…an important discussion about SMEs. How can we contribute to avoid the difficulties that exist today, also in the euro area, in terms of the lending conditions to SMEs in Europe? And we have agreed to significantly increase the funding for SMEs through the structural and investment funds, leveraging the European Investment Bank loans so that they can have this kind of funding available, which is particularly important for countries that have very big pressure on their budgets and also in terms of the access to markets of their companies."
"Regarding SMEs, we also had a very good discussion on regulatory fitness. I was extremely encouraged by the strong endorsement that the European Council gave to the Commission's Regulatory Fitness and Performance programme (REFIT), a programme of pragmatic proposals for simpler, less burdensome, more 'common sense' European Union regulation."
"I made it clear that this REFIT programme is a programme to reduce the administrative burden on our companies and our citizens, but should not be about calling into question shared policy goals, like our goals in terms of environment, of workers' rights, of public health or consumer protection."
"We need to open up at home but we also need to open up with our partners. I'm very pleased the European Council welcomed the political agreement on the CETA, the agreement on trade with Canada, which provides significant new opportunities for the European Union and Canadian companies."
"We also discussed extensively the forthcoming Eastern Partnership Summit in Vilnius at the end of November. […] We are close to achieving our common goal of political association and economic integration with our Eastern Partners. The free will of these countries must be respected by everyone and we also expect our partners to deliver on their commitment to reforms and to the values that underpin our relationship."
"We have discussed in detail the relations with Ukraine. We have been working very hard to achieve the best set of deliverables at Vilnius, in particular the signature of the Association Agreement and Deep and Comprehensive Free Trade Area with Ukraine. And in the many contacts we have had with President Yanukovych, President Van Rompuy and myself have kept this very intense dialogue. We met him several times and we made this message clear: we will stick to our commitments if Ukraine also sticks to what it has committed to do."
"As I saw for myself, when I visited Lampedusa at the invitation of the Italian government, the scale of the human tragedy in the Mediterranean means we have to act now. The European Union cannot accept that thousands of people die at our borders."
"I have called for a stronger response from the European Union in several areas, namely four areas that are now already in the agenda of this task force that already met once:
Reinforce search and rescue operations to save lives.
To help the frontline member states, namely the countries of the European Union that are more exposed to this situation.
Thirdly, the need to work with the countries of origin and transit so that we can manage migration flows.
And fourth but not the least in importance, the fight against organised crime and human trafficking. These were the priorities that were extensively discussed by the European Council."