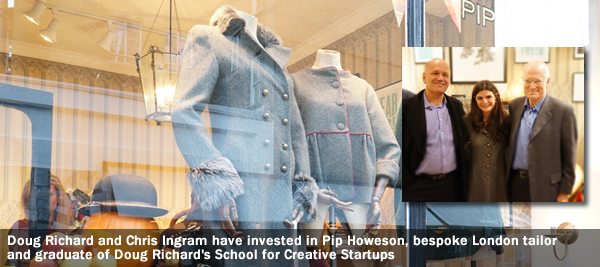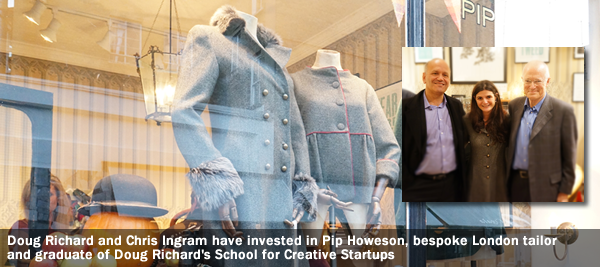 London tailor, Pip Howeson, has announced funding from ex Dragon's Den star Doug Richard, and media entrepreneur Chris Ingram, to build on her fast-growing reputation for bespoke high-end tailoring, using ethically sourced British fabrics.
Setting out a vision to make made-to-measure fashion more accessible to women everywhere, Howeson, a graduate of the first class of 'School for Creative Start-ups' run by Doug Richard, has a strong heritage as a tailor. Working for Jack Wills at its inception, as well as with Selina Blow, where she was exposed to the glittering fashion elite, including Philip Tracey, Alexander McQueen and Stephen Jones. It is with this experience behind her that she decided to start her own business.
With creative industries currently accounting for more than 10% of exports in the UK and generating £70,000 a minute for the UK economy, investors are increasingly keen to get behind the new wave of creative start-ups appearing on the horizon.
Pip Howeson Ltd also champions the importance of 'Made in Britain', as consumers are becoming increasingly aware of where the products they buy are sourced. Committed to supporting British milliners and the British textile industries, Pip's coats are created entirely within the British Isles, from the artisanal fabrics from northern Scotland to the final design in her studio in Chelsea.
The investment will enable Howeson and her team to open a store over the next twelve months, raise awareness of the brand as well as develop a 'made-to-order' service and build the collection. The funding coincides with the opening of Pip's Christmas store at Pentreath & Hall in Bloomsbury and the unveiling of her new luxury cashmere collection. The collection will be on show at the store until 23rd December.
"I'm incredibly lucky to have received backing from Doug and Chris. It's going to allow me to further develop the collection and spread the word about the benefits of bespoke garments that are made in Britain." says Pip Howeson, founder of Pip Howeson Ltd.
Doug Richard also commented: I knew from the very first time that I met Pip at my School for Creative Startups bootcamp, back in August 2012, that she had a fantastic business idea and was going to be a great success. " "I have watched her business grow from strength to strength and am proud to make this financial investment to help take it to the next level of growth." Her handcrafted tailoring is exceptional – I am lucky enough to own one of her bespoke coats on which I have received many compliments."
Chris Ingram of Ingram Enterprise said: "I am pleased to be supporting Pip Howeson; she is a talented bespoke tailor. As an entrepreneur with over 40 years experience and as an investor in start up and small businesses with Ingram Enterprise, I look to support young and aspiring business minded people like Pip." He added: "I have been impressed with Pip's talent for bespoke high-end tailoring and her drive to build a strong business and reputation. I am looking forward to working with Pip and her team to build the business using her talent and our business experience."
Feature Links:
www.schoolforcreativestartups.com