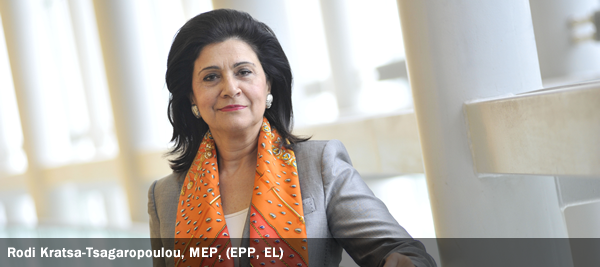 Companies listed on stock exchanges in the EU would have to bring in transparent recruitment procedures so that by 2020, at least 40% of their non-executive directors are women, under a draft EU directive voted by Parliament on Wednesday. MEPs propose that companies which fail to introduce such procedures should face penalties. In 2013, only 17.6% of non-executive board members of the EU's largest companies were women.
"We adopted a consistent resolution and sent out a strong signal to the Council, but also to European stakeholders and societies" said Women's Rights Committee co-rapporteur Rodi Kratsa-Tsagaropoulou (EPP, EL). "It is essential for listed companies to evolve so as to include highly skilled women in their decision-making processes, with a view to achieving competitiveness, while fully respect EU principles and values of equality", she added.
"The resolution clarifies and improves the open, transparent procedure for appointing non-executive board members to listed companies. Parliament has done its homework, and now it's the turn of the Council to move on, finish this directive together with us and the Commission before the European elections, so as to move closer to gender equality within European companies. This will demonstrate to our citizens that we are fighting for non-discrimination and equal opportunities for all in the labour market", said Legal Affairs Committee co-rapporteur Evelyn Regner (S&D, AT).
MEPs call on member states to ensure that listed companies take effective and binding measures to guarantee equal access for both women and men to non-executive positions on boards so as to ensure that by 2020, at least 40% of non-executive directors' positions are held by women. Public companies would have to reach the target already by 2018
Where candidates are equally well qualified, priority should go to the candidate of under-represented sex. MEPs stress that qualifications and merit must remain the key criteria.
The hiring rules would not apply to small and medium-sized enterprises (SMEs), i.e. those that employ fewer than 250 persons. MEPs nonetheless encourage EU member states to support SMEs and give them incentives to improve gender balance on their boards, too.
Companies that fail to abide by the rules will be required to explain why and notify competent national authorities on the measures taken and planned to achieve the target in future.
Penalties such as fines should be imposed for failing to follow transparent appointment procedures, rather than for failing to achieve the target, MEPs say. They propose that "exclusion from public calls for tenders" should be added to the list of possible penalties, which should be made mandatory, rather than indicative, as the Commission proposes.
To take effect, the directive needs to be endorsed by the Council of Ministers. The resolution was adopted in Parliament by 459 in favour to 148 against, with 81 abstentions.