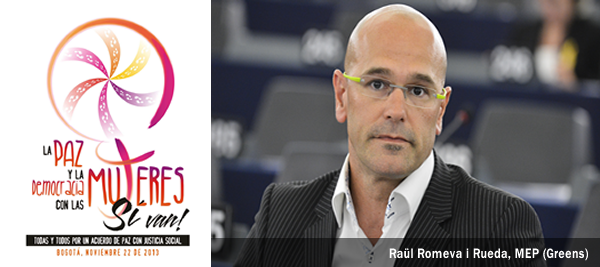 More than 15 MEPs from the European Alliance of Socialists and Democrats, the Greens European Free Alliance and the European United Left have sent a letter of support for a march organized by the Women for Peace network 'Mujeres por la Paz' . The peace movement aims to ensure that neither the Colombian Government nor rebel movement 'FARC' leave the negotiating table before signing a Peace Agreement.
MEPs have expressly ask negotiators in Havana: "to listen to the demands of civil society, particularly women and victims, and take into account their proposals". They recall that Colombian women "have been developing peace-building proposals for decades, calling for a political solution to the armed conflict in Colombia". They argue that if the country wants to emerge from a conflict that has been raging for so many years and build a lasting peace, it "must", without a doubt, "listen to these voices".
In the open letter, MEPs call upon the actors at the negotiating table to consider the possibility of a bilateral cease -fire. This request, they say, is made ​​expressly on behalf of the victims of Colombian's armed conflict: "Colombia should not have to mourn for them any longer," they say. The MEPs also state that a ceasefire would be an important step to build confidence in the peace process and show that there are results and positive changes for the civilian population living in conflict areas.
The initiative for Parliamentary support comes after an event on November 5th in the European Parliament, 'Women, fundamental players for peace-building in Colombia', organized by the European civil society networks Grupo Sur  and Oidhaco. Both Oidhaco and Grupo Sur support the requests made by the women in the peace march which will take place tomorrow in Colombia.
"For many years we have supported all peace initiatives from Colombian civil society. Now that the government and the FARC are negotiating an Agreement, we have requested that the peace talks in Havana open their doors to civil society, including women. It is also important to listen to the victims because there is no real 'peace' without them", said a spokesperson for the civil society organisations.