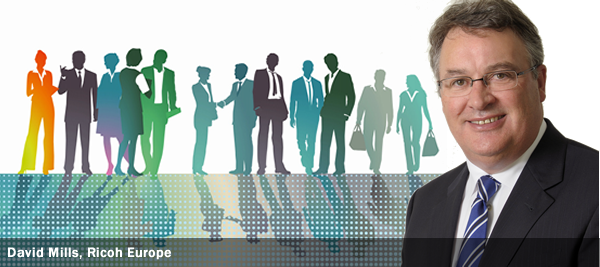 Small and medium-sized businesses (SMBs) across Europe are moving much faster than their peers in larger organisations in the race to complete key digital transformation initiatives, according to research commissioned by Ricoh Europe. Almost two thirds of SMBs (64 per cent) expect to digitise their remaining physical documents within the next three years, compared to less than half (46 per cent) of large businesses.
In addition 78 per cent of SMB business leaders said that employees can work on documents from any work-supplied mobile device, compared to 69 per cent in large organisations.
 Digital transformation will enable the SMB to grow into the future with a more productive and agile working model where employee knowledge sharing is enhanced and they are more responsive to client needs.  However, the study also unveils an area of risk for SMBs – their employees are also more likely (62 per cent) to use personal drives to store information compared to 55 per cent of large business, which is also a significant number. Such actions can deter the benefits of effective information sharing and even result in the loss of important business insights if employees leave the company and critical documents are not retrieved.
The presence of more iWorkers ('intelligent workers') in the future – reliable and skilled employees who have 24/7 access to all the necessary information to meet the needs of the business and its clients – is one measure that could help to prevent such impacts. The study shows that by 2018, 30 per cent of SMB leaders expect the majority of their employees to align with the iWorker definition. However, there is a long way to go before more collaborative and responsive working environments are established.
The study also shows that today, SMB leaders believe that their current inability to access documents and other important information systems from mobile devices are the top two areas that are holding them back, when it comes to effectively sharing information. So while they are more optimistic about fully digitising their business operations over the next three years, these additional insights suggest that many business critical processes and document flows are still to be reviewed and optimised to support the business and employee needs into the future.
In order to further digitise effectively, SMBs must ensure they are reviewing their existing technology and that their processes or ways of working are optimised so they get the best from it. In fact, all business leaders ranked optimising business critical document processes (reviewing the way we work in core business interactions) as the number one technology-led activity to have the biggest positive impact on business growth.
However, in addition, they must also overcome the cultural obstacles to managing information. Like their peers in larger organisations, the challenge is to establish a new type of information sharing culture. More than half of SMB leaders (55 per cent) and large business leaders (53 per cent) confess that their organisation is not a sharing company.
David Mills, Chief Operating Officer, Ricoh Europe, says: "The forward-thinking SMBs have a fantastic opportunity ahead of them. By further digitising their business critical documents and optimising their processes, they will be able to access information quickly, whenever they need it."
"Importantly, by doing so, they will increase productivity as they manage their knowledge more effectively. They will also be more agile in the changing workplace, more responsive to customer needs and able to enhance employee knowledge sharing. Then, when these foundations are set, they will be able to build an information sharing culture that will attract and retain more iWorkers to successfully drive the business in the future."