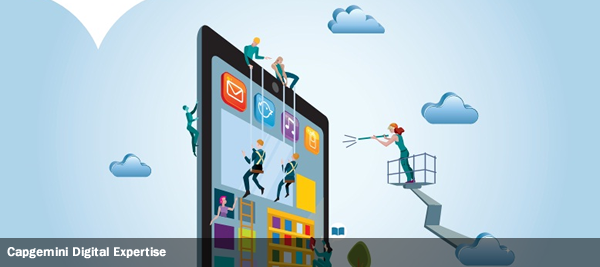 Leading technology and consulting firm, Capgemini, has announced plans to combine its key digital assets and capabilities under a new global service line entitled Digital Customer Experience (DCX).  
DCX intends to provide organizations with the seamless offer they need to understand and implement digital engagement strategies, platforms and solutions, to fundamentally change how they do business and interact with their end-users.
Capgemini said it consolidates their established digital engagement expertise and IP, and will be supported by a new dedicated Center of Excellence in India, along with a global recruitment drive. Capgemini has already successfully implemented a number of digital customer experience projects for various clients including Hydro Quebec.
The introduction of Capgemini's DCX global service line is in response to the need for companies across all sectors to digitize their customers' experiences, in order to increase client intimacy, ensure growth and differentiate themselves against their competitors. It aims to support CMOs who want innovation and reduced time to market through contextually rich customer campaigns, and CIOs who need to deliver technology at a pace to provide the agility required by the business, as well as COOs and CFOs for whom the transparent delivery of operational performance is imperative. DCX will combine Capgemini's key digital assets and capabilities to help all client stakeholders intelligently manage their operations, to better serve their customers' needs.
"Today's multichannel customers demand better experiences than they get from firms that design underperforming one-off touch-points. Faced with an expanding ecosystem of legacy websites, mobile sites, and apps, firms need a plan that will help them align their investments with their customers' most pressing needs. They can accomplish this by taking a user-centered approach to understanding the needs and behaviors of their multichannel customers and filling in the experience gaps," writes Ron Rogowski II, Principal Consultant, in a Forrester report.

Capgemini's DCX aims to bring enterprises closer to their end-users in order to deliver the seamless multi-channel experience that they now expect. It combines Capgemini's market leading capabilities in application services and consulting, with its proven track record in digital transformation engagements.
"We know that today's end-users expect seamless interactions via multiple channels with faster, almost instantaneous responses. To achieve this, businesses need to be more agile, innovative, social, mobile and above all, completely customer focused," said Simon Short, Head of Digital Customer Experience Global Service Line at Capgemini.
He added: "The ever-changing landscape of business technology solutions has led to a standstill for many when deciding what is best for operations, employees and customers. Our Digital Customer Experience service line will help companies to intelligently consume digital services to deliver a holistic and profitable strategy, while creating a meaningful experience for their customers."
Capgemini worked closely with Hydro-Quebec, a large public utilities company based in Montreal with 4.01 million customers, to understand and distil their customer experience vision for the future, and identified the key benefits. An ambitious multi-channel strategy and transformation roadmap was then developed in parallel with the design and implementation of an IT roadmap. The core focus was a renewal of the Contact Centre and Web Portal, combined with CRM implementation, bringing the scope to three major projects. To accelerate the internal transformation and ensure longevity of the benefits delivered, a new Customer Experience division was set up.
"Working collaboratively with Capgemini over the course of this transformation not only equipped our organisation with stronger internal tools and processes but also empowered us with the skills and self-confidence to deliver a bring a best in class channel offering to our customers," said Marcel Boyer, Customer Service VP, Hydro-Quebec.
Share this