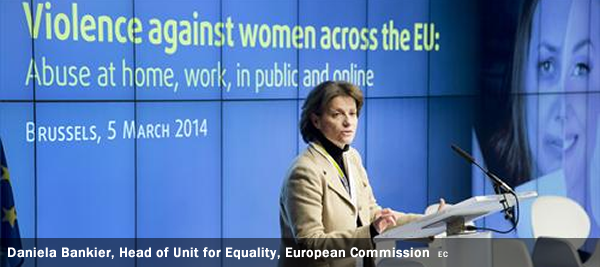 Nine million European women, equivalent to the whole Austrian population, have suffered some form of sexual violence; and one in five (22%) acknowledged that their partner, or previous partner, perpetrated violence against them. These findings were published this week by the European Union's Fundamental Rights Agency and the European Council, to highlight International Women's Day.
The survey on violence against women contains incendiary findings: 33% of women have experienced physical and/or sexual violence, and 5% of respondents reported they have been raped.  While 18% have experienced stalking, almost 70% have never report violence.
Many European women still suffer in silence and do not report abuse, mainly because "victims still feel ashamed," said as Rosa Logan, Co-Founder of the European Network Women Against Violence in Europe. Logan said she thinks this survey is "a wake-up call", adding, "In our democratic countries, there shouldn't be women who are afraid of reporting."
One of the most remarkable results of the study is the difference amongst countries from northern and southern Europe. In Scandinavian countries, more women admit they have been attacked in their lifetime (from 30 to 40%) than in the south (only 10 to 20%).
The survey also reveals the relationship between poverty and violence. Around 12% of women who have difficulties coping with current household incomes have experienced coercion. "The violence always starts at home, and that also affects children", said Marietta Giannakou, a Greek Member of the European Parliament (EPP). Yet she added: "There is no justification, no excuse of economic situation for women that still suffer violence."
Danish MEP, Mickael Gustafsson of the European United Left, emphasised that the European Parliament was the institution which initially asked for this survey, under the Spanish Presidency of the Council, held in the first semester of 2010. The survey was commissioned due to the lack of data about violence against women across Europe.
Gustafsson has admitted he feels "shocked" about the results and has asked the European Commission for: "more strategy, cooperation and training for people who deal everyday with issues related to gender equality," adding that "Violence against women is a reflection of a society."
The report, the world's biggest-ever survey on the subject, reveals the extent of abuse suffered by women at home, work in public and online. The survey was based on face-to-face interviews with 42,000 women, aged 18 to 74 years, across the EU'S 28 Member States.
Share this