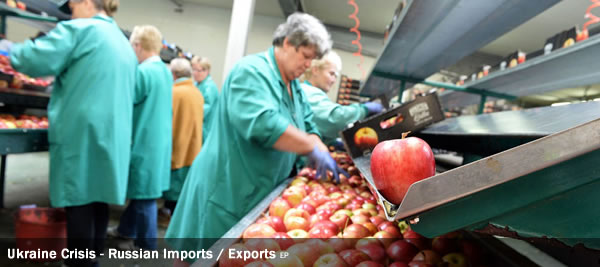 European companies have started to feel the impact of the Russian import ban introduced on 7 August. The measure, which includes anything from Polish apples to Belgian pork, is Russia's response to EU sanctions over the country's involvement in the crisis in the Ukraine.
During this week's plenary in Strasbourg, MEPs will debate the impact of the ban on European agricultural products. Bernd Lange (Germany, S&D), chair of the international trade committee, and Czesław Siekierski (Poland, EPP), chair of the agriculture committee, remarked as to how the EU can make a difference in this trade conflict.
Bernd Lange said: "From a trade policy perspective we will certainly rely on and make use of the tools the WTO framework provides us with. And we will have to analyse carefully the effect the Russian bans have on European companies and, but let me make very clear that this should be an exception to the rule, consider compensating sectors which are severely affected by the Russian actions."
Czesław Siekierski added: "The embargo was introduced because of strictly political reasons and the companies themselves cannot cope with the restrictions involved as they are not responsible for them. It's not about charges of non-compliance with standards and export requirements, as has happened in the past. The Russian decision was taken at the highest political level. Lifting the restrictions should be pursued through negotiations and dialogue.
Lange added: "I don't think that trade policy is the right tool to achieve short-term foreign policy goals, a tit-for-tat trade war is in no one's interest. But what we have already seen is that Russia is under a lot of pressure to comply with WTO rules ever since its accession to the organisation. And we are of course opening new markets for EU businesses all across the world with our ambitious trade policy agenda, creating alternatives for EU exporters."