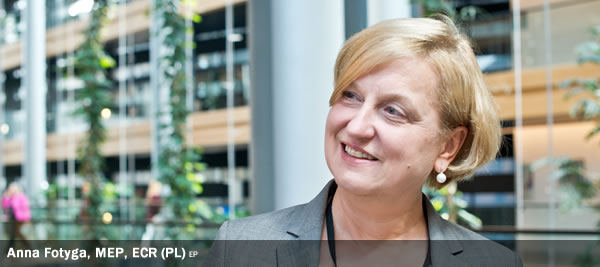 As countries all over the world discuss how they can work together to tackle the threat posed by ISIS, MEPs will debate on 17 September what the EU can do to improve the situation in the Middle East. Anna Fotyga, a Polish member of the ECR group and chair of the security and defence subcommittee, said she expects a tough hearing for Federica Mogherini, the EU's incoming foreign affairs chief.
Should Europe focus on a strong common defence approach considering the current conflicts close to the EU's borders?
The challenges we face are considerable. The key issue is to find consensus on how to reasonably tackle the challenges both in our southern and eastern neighbourhood.
Does the threat of the Islamic State (ISIS) require a different kind of response from Europe?
Yes, absolutely. We have an asymmetric war against western society coming from all directions. We never know what is going to strike us: militants in the Eastern part of Ukraine or the radical Islamism of ISIS. Knowing that European children, teenagers, are also attracted by these kinds of ideas is just absolutely dispiriting. We have to strengthen and coordinate the antiterrorist measures at our disposal to cut off finance sources for radical Islamism.
What can the European Parliament do to improve the European reaction?
We have to help people earn a living, because very radical movements find broad appeal in poor societies.
Do you hope Federica Mogherini, the EU's next high representative for foreign affairs and security policy, will be a game changer?
During my previous meetings with Ms Mogherini I found some of her views questionable. Hopefully, the situation will make her see the clear dangers we face. Obviously she is more engaged in problems in the Middle East and Northern Africa rather than our Eastern Neighbourhood. I hope she will find the right balance.
Do you expect a tough hearing for Ms Mogherini?
Of course.
Share this