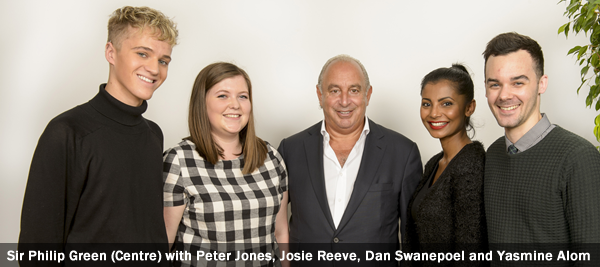 Legendary retailer, Sir Philip Green, the owner of Arcadia Group, is backing the team from a London college who are competing in a worldwide student challenge at the World Retail Congress in Paris next week.
Peter Jones, Josie Reeve, Dan Swanepoel and Yasmine Alom were chosen from 700 students at the Fashion Retail Academy, which is supported by retail giants including Marks & Spencer, Tesco, Next and Sir Philip's Arcadia.
The four will take on rival teams from New York, Hong Kong, Tokyo and Ancona in the Retail Futures Challenge which is now in its 6th year.
They will present their vision for a Samsung store of the future. It must meet all the demands of today's consumers who expect to be able to shop via physical stores, online, mobile, or social media. The Samsung Life Store must also demonstrate how technology can make people's home lives more comfortable, productive and entertaining. The team will present their blueprint to over 1,000 retail executives who will gather in the French capital for the 8th annual Congress.
Peter Jones, 18, from Milton Keynes, said: "We're aiming to win. We're a strong team and determined to give it our best shot." Josie Reeve, 19, from Bexley, Kent who has just started working for fashion chain Oasis said: "It's a great opportunity. We want to grab it with both hands." Former air stewardess Yasmine Alom, from Bedford, said: "I've been to Paris a few times before. It's such a vibrant city. It's very exciting. And Dan Swanepoel, 23, who is originally from South Africa wants to be a store designer so said the challenge was "right up my street". He added: "It will be nerve-racking presenting to such a high-powered panel but it is a wonderful opportunity and we need to seize it."
Sir Philip wished the students good luck but urged them to make sure that they had "done their homework". He added: "They need to make sure that they have thought of everything that would make shopping the store a great experience but it also needs to be commercial.
"These are big purchases so they need to have done their homework so that they can talk confidently about the products and educate the customer. If they win, it could be the springboard to bright futures in retail."
Ian McGarrigle, Chairman of the World Retail Congress said: "We are very pleased that London is going to be represented again at the Retail Futures Challenge. The competition has grown to become one of the high points of the WRC and it is fantastic to see these future leaders of retailing setting out their ideas in front of an audience of retail professionals. I wish them the best of luck for the final."