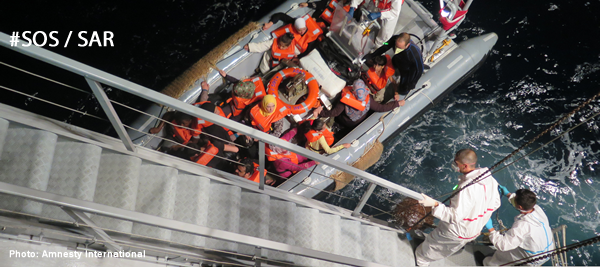 A year on from the Lampedusa shipwrecks, which claimed more than 500 lives, a new report by Amnesty International highlights how, what Amnesty called the "shameful inaction of European Union (EU) countries" has contributed to a spiralling death toll with thousands of refugees and migrants losing their lives in a desperate bid to reach European shores.
Amnesty International's report, Lives adrift: Refugees and migrants in peril in the central Mediterranean, details the findings of recent visits to Italy and Malta, including a research trip on an Italian Navy vessel. Interviews with survivors of shipwrecks, experts and authorities expose the reality of the dangers faced by those fleeing war, persecution and poverty, and the pitiful response of most European states.
"As the EU builds its walls higher and higher, refugees and migrants are increasingly taking to the Mediterranean in a desperate bid to reach European shores. Placed on rickety boats by ruthless smugglers, every week hundreds of them sway between life and death, between hope and despair," said John Dalhuisen, Europe and Central Asia Programme Director.
"More than 2,500 people have drowned or gone missing in the Mediterranean on their way from North Africa since the start of the year. Europe cannot ignore the tragedy unfolding on its doorstep. More search and rescue vessels in the central Mediterranean, with the clear mandate of saving lives in the high seas and resources adequate to the task – that's what the EU and its members must urgently provide."
Conflicts and persecution in the Middle East and Africa, economic deprivation and the sealing of land borders in south-eastern Europe have pushed desperate people towards the sea.
In 2014, more than 130,000 refugees and migrants irregularly crossed Europe's southern borders by sea. Nearly all of them have been rescued by the Italian Navy.  The vast majority of these people took to the sea from war-torn Libya.
The report identifies structural weaknesses in the search and rescue services in the central Mediterranean and calls for more safe and legal routes to Europe for people fleeing conflict and persecution. This can be done through resettlement, humanitarian admission programmes and facilitation of family reunification. It also makes the case for a review of the Dublin regulations governing the processing of asylum applications in the EU.
Beatings, Overcrowding, Shipwrecks
In Italy and Malta, Amnesty International spoke to more than 50 refugees and migrants. Many had a similar story about the dangers they faced, during their journey at sea, including beatings and overcrowding. Some survived a shipwreck or other deadly incidents.
Mohammed, a 22-year old from Damascus, Syria, told Amnesty International: "When we left Libya, we were 400 people with maybe 100 more children. We had to go on rowing boats to reach the bigger boat. At first I could not see the big boat, but when I saw it, it was bad. I did not want to board it, but the smuggler threatened me with a firearm. It took two hours to board everybody. At about 2am I heard gunfire. [A boat with armed men] placed themselves in front of our boat. They kept trying to stop the boat for about four hours. They shot from many sides. When it dawned, they left. The damaged boat was swaying. We threw all our bags in the sea, including the life jackets – we wanted to live!"
A lack of coordination between coastal states, especially Malta and Italy, is further exacerbating the dangers of the journey. Long-standing disputes between Italy and Malta over their respective search and rescue obligations may have cost the lives of hundreds of refugees and migrants on 11 October 2013, when a trawler carrying over 400 people sank in the Maltese search and rescue zone.
Amnesty told journalist at the European Parliament, that the international outcry to do more to save lives at sea was not followed by any meaningful action by EU leaders. Italy, it said, was the only EU country to respond by launching Operation Mare Nostrum, deploying a significant part of its navy for search and rescue operations in the Central Mediterranean. However, even Italy's best efforts have been insufficient to prevent the dramatic loss of life that occurred over the summer months of 2014.  And Italy has recently indicated that the operation is not sustainable in the long run.
"Mare Nostrum has saved tens of thousands of lives at sea, but it is not a long-term solution. A concerted EU effort is needed to meet a shared EU responsibility," said John Dalhuisen.
"The recent proposal for Frontex, the EU agency for monitoring borders, to step in will be a positive step only if sufficient assets are deployed in high seas by the EU member states and its mandate clearly stresses its search and rescue functions."
All For One, Or Some For All?
Amnesty International also argues that the EU Dublin Regulation, where the EU member state of first arrival is responsible for processing asylum claims, places an unfair strain on countries involved in the rescue operations as they carry the longer term responsibility of meeting their needs.
The lack of responsibility sharing among EU countries is discouraging Southern European states, particularly Malta, from taking refugees and migrants to their ports. Operation Mare Nostrum has temporarily papered over this problem, but should it come to an end without an adequate replacement, delays and disputes over search and rescue obligations will place lives at risk once again.
"Regardless of the dangers and of EU measures to keep them out, refugees and migrants will continue to risk their lives and the lives of their children fleeing their war-torn, rights violating or economically struggling countries of origin. EU states cannot channel them into the world's most dangerous sea route and then abandon them to their fate," said John Dalhuisen.