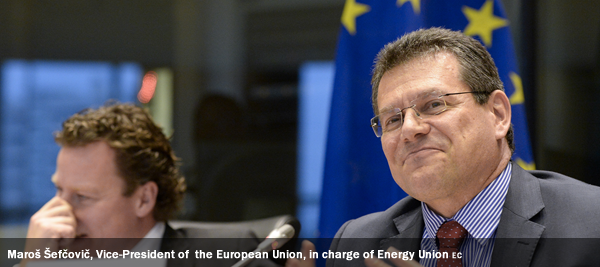 The EU is at constant risk of energy supply disruption. Too much energy is wasted and 10% of households in the Union cannot afford proper heating, the Commission vice-president for energy union told Parliament's energy and environment committees this week. Maroš Šefčovič was presenting his vision for an energy union to tackle these and other challenges, and also listened to the priorities and concerns of MEPs. An inter-parliamentary seminar on energy security will be held in Turkey next month.
Commissioner Šefčovič said the final text on energy union will be presented by the end of February and will include the EU negotiating position on a global climate deal in Paris, as well as legislative proposals to achieve the EU's energy and climate targets for 2030.
At the end of the meeting, Polish EPP member Jerzy Buzek, chair of the energy committee, remarked that "the implementation of the existing legislation by member states will be the most important task in the near future". Šefčovič said "we need to be stricter on monitoring."
Latvian EPP member Krišjānis Kariņš raised doubts about the reliability of Russia's gas supplies. "We have to diversify supply routes and sources," said Šefčovič, pointing to gas from the Caspian region. He also mentioned gas developments in the Mediterranean.
Dan Nica, a Romanian member of the S&D group, and Kateřina Konečná (GUE/NGL, Czech Republic) wanted to know how the new proposals would help reduce energy bills for consumers. Šefčovič pointed to energy efficiency through ecodesign and energy labelling which "need to be updated". He added that the EU could also support the renovation of buildings.
Roger Helmer, a British EFDD member, raised concerns about high energy prices for businesses.
Bas Eickhout (Greens/EFA, Netherlands) said "climate change and energy security need to go hand in hand", while Julie Girling (ECR, UK) sought information on EU support for renewables such as tidal energy. Šefčovič responded that the Juncker plan can be one of the sources of finance for such projects.
Morten Helveg Petersen, a Danish ALDE member, called on the Commission to ensure that Parliament, as co-legislator, is fully involved in the decision-making.
On 5-6 February a five-strong delegation of MEPs, including Elmar Brok, the chair of the foreign affairs committee, and Jerzy Buzek travels to the Turkish capital Ankara where they will discuss energy issues, including energy efficiency and supply security, with their Western Balkan and Turkish counterparts.