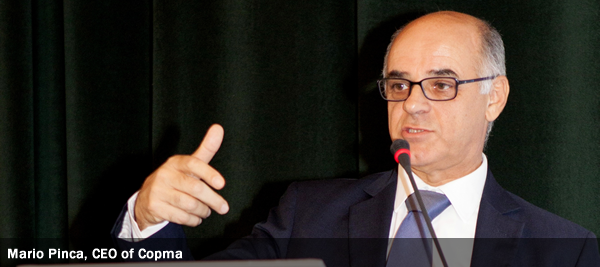 "Europe's 'Blueprint for Safer Healthcare' is a significant step forward. It brings a new impetus to all the actions necessary for research development and healthcare innovation, in the name of greater patient safety," said Mario Pinca, CEO of Copma, a leading Italian healthcare services provider.
"The European Parliament's recent 'Blueprint' approval aims to improve patient safety, principally by tackling growing antibiotic resistance. Copma, in collaboration with the most important Italian Universities, has developed, in recent years, a cleaning and hygiene system, the PCHS, a tried and tested hygiene protocol which, with the use of probiotics, can significantly reduce the risk of the transmission of healthcare associated infections; reducing direct and indirect costs.
"25,000 citizens die every year in Europe owing to the growing resistance to existing antimicrobials, so we must stimulate research into new types of substances…"
"Approval by the European Parliament of the Health Committee's resolution, is just one step in the process to improving patient health. Next, the resolution goes to the European Commission, and it is here where we hope there will be an acceleration in the production of standards that can enhance innovative processes to contribute to the improvement of quality and hygiene in European hospitals. It's a critical moment. As the World Health Organisation said: 'No action today, no cure tomorrow'."
Adverse Hospital Events
Between 8% and 12% of patients admitted to hospitals in the EU suffer from adverse events while receiving healthcare, and nearly half of these events could be avoided. The most common healthcare-related adverse events are the nosocomial infections (HAIs – healthcare-associated infections).
HAIs are a major public health problem in all EU member states.
According to the European Centre for Disease Prevention and Control, 1 in 20 hospital in-patients, on average, suffers from an HAI in the EU, that is to say, 4.1 million patients annually; and every year, 37,000 people in the EU die as a result of an HAI, even though 20%-30% of these infections are considered to be preventable by intensive hygiene and control programmes.
University of Ferrara
"The University of Ferrara, as part of the scientific research carried out on the PCHS, has developed a new method of measuring the level of hospital hygiene," said Pinca, "It's named I.Q.M. 'Indicators of Microbiological Quality'". "These indicators can become a European reference for all operators in the sector, both for who provides the service and for the institutional levels which govern them. We can measure safety, we can improve safety outcomes."
"At Copma – said President Alberto Rodolfi – we have developed the PCHS hygiene system; it's proven, with field research and the application of the system in hospitals, that the PCHS substantially reduces the bacterial pathogen load to low and stable levels." He added: " In doing so it lowers HAIs transmission risk, and significantly reduces healthcare costs. These outcomes are realistic, because they are the result of studies and research and for this reason, we would like these innovations to be incorporated into the European legislation. This will improve Europe's healthcare quality and performance, while reducing costs."
Infection Reduction
It's possible to significantly reduce infections acquired in the process of care through a multidisciplinary action; our task is to ensure a healthy environment knowing how to the management of the bacterial pathogen load – keeping it very low and stable levels over time. "Achieving these result with the PCHS system requires three factors," said Pinca, "Firstly, protocols governing the service process, including the supply of instruments and technological tools specifically designed and patented to guarantee the maximum operational efficiency; secondly, the use of probiotic bacteria; and thirdly, a staff training system."
"Austerity measures cannot be imposed in such a way that they affect the safety of patients, staff or experts in hospitals", said lead MEP Piernicola Pedicini (EFDD, IT), whose recommendations were approved by 637 votes to 32, with 10 abstentions.
"25,000 citizens die every year in Europe owing to the growing resistance to existing antimicrobials, so we must stimulate research into new types of substances," he added.
Invest In New Approach
The measures proposed to ensure that antibiotics are used more responsibly including antimicrobial resistance and infection control. MEPs also urge pharmaceutical companies to invest in developing new antimicrobial agents, and ask the European Commission to consider proposing a "legislative framework" to encourage the development of new antibiotic drugs.
MEPs also note that the current economic crisis has placed increased pressure on national healthcare budgets, and hence has an impact on patient safety. They call on EU member states to ensure that patient safety is not affected by austerity measures and that healthcare systems remain adequately funded.