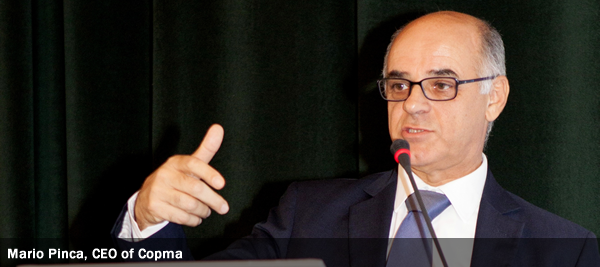 "With the probiotic based PCHS system, in the European hospitals we may have more quality and higher hygiene standards counteracting the proliferation of the pathogenic bacteria" says Copma's Mario Pinca.
"Deaths caused by the HAI in Italy's national health service are symptomatic of a critical issue throughout Europe's healthcare centres," said Mario Pinca, CEO of Copma, a leading Italian services provider.
"In Naples, two weeks ago, Silvestro Scotti, President of the Medical Association of Naples, commented on a court decision to award €1 million following the death of a patient who died of an infection, after what was described as "a trivial intervention. "Any action aimed at fighting antimicrobial resistance must be implemented; we are ready to make our contribution," said Pinca.
FOCUS reported on why the Naples court awarded such a substantial payment to the patient's family following the death at Naples' Cardarelli Hospital. Scotti was quoted as saying: "Superbugs are a known danger, and frequent in hospitals. It is obvious that it's necessary to commit to the maximum to reduce these eventualities, to apply all procedures, and enhance the risk management services." Scotti also said the lawsuits could multiply.
"A quantum leap is needed in the fight against pathogenic bacteria; traditional systems alone are not enough anymore," said Mario Pinca, CEO of Copma, "Today it is necessary to strengthen the 'first line of defence';  with the PCHS  it is possible to reduce the risk of transmission of hospital-associated infections (HAI). So, the real question is not 'What can be done?' but 'Why don't we do everything possible when there is scientific evidence in support?' Plaintiff's lawyers will start asking this question in medical liability cases."
Pinca added: "As Dr Scotti noted in Naples after yet another tragedy; there could be a rise in law suits. Courts will ask 'Did you do everything possible in the risk management procedures?'
"What we know from extensive peer reviewed research and from a consolidated operating experience, is that the PCHS system significantly improves the level of hygiene in hospitals and reduces the presence of pathogens ; and what we can say, is that it is possible to reduce the risk of transmission of hospital-associated infections (HAI)."
"This innovative, but academically proven hygiene PCHS system, uses multidisciplinary action based on probiotic bacteria. Using this approach it is possible to effectively counteract potentially pathogenic bacteria . A series of academic studies demonstrate that: "Environmental sanitization is an essential and effective part of programmes to prevent and control hospital infections."
Alberto Rodolfi, President of Copma remarked: "It's time to revolutionize European health care or the system will be more and more exposed to lawsuits with a very serious harm to the financial sustainability of the system itself. It's time for change."
Share this