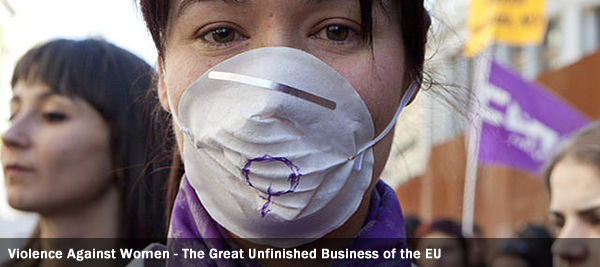 Europe and Latin America have a problem in common: the high rates of violence against women continue to increase in their countries. That is why, today November 25th, the International Day Against Gender Violence, the network of European NGOs, Grupo Sur, calls on the European Union to meet its commitments in the fight against this scourge.
At the II Summit of Heads of State EU-CELAC, the highest-level meeting which directs relations between the European Union and the countries of Latin America and the Caribbean, held in the city of Brussels in June, the two regions pledged in its action plan to join forces and take meaningful steps to ensure a life free of violence against women and girls. However, as stated by the head of advocacy of Grupo Sur in Brussels, Erika González, "it takes more than words and good intentions and so far we have no specific information about what actions are going to be taken nor do we know what is the budget set to carry out this plan in order to achieve its purposes."
In Europe, 33% of women over 15 years old have experienced physical or sexual violence from their partners throughout their lives
The situation is worrying and this has been confirmed by the figures. In France, according to the Ministry of Interior, 118 women were killed in 2014 by her partner or former partner. This means, one woman dies every three days in the Gallic country, at the hands of her partner. Meanwhile in Spain, according to the organisation 'Feminicidio.net', 102 cases of feminicide were recorded in 2014 alone and in Italy, just during the month of October 2012, 100 women were killed because of their gender.
In Latin America the situation is not more encouraging. In El Salvador, feminicide is the leading cause of death in women and in Honduras, according to the Center for Women's Rights Organization (CDM) every 16 hours a woman is killed. For Erika González, these figures are alarming and she points out that only 1% of reported cases reach the sentencing stage. "The EU and Latin America must ensure women's access to effective justice and punish the guilty; otherwise, the message sent is that male violence is acceptable and inevitable."
In Latin America, only in El Salvador, the leading cause of death for women is feminicide
The European civil society welcomed the new action plan EU-CELAC, which contains a specific chapter about gender and the eradication of violence against women but stresses that this plan should be accompanied by public policies and budgets and that organizations for women should be able to track these actions transparently. Otherwise, says González, "this plan will not be fulfilled and will only be a document with recommendations and good intentions while thousands of women in the two regions will continue to be killed."