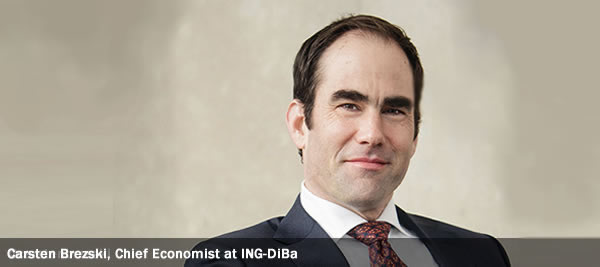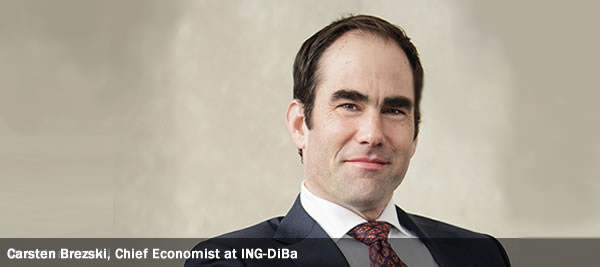 Wake-up call. Global events have finally reached German companies' boardrooms, writes Carsten Brezski, Chief Economist at ING-DiBa. At least this is one conclusion of today's Ifo reading. Germany's most prominent leading indicator, the just released Ifo index, dropped to 105.7 in February, from 107.3 in January; the third decline in a row and the lowest reading since January 2015. Particularly, expectations have taken another sharp hit from recent market turmoil, the adverse impact of low oil prices and renewed concerns about a slowing of the Chinese economy, dropping to 98.8 in February, from 102.3 in January.
Remarkably, the current assessment component increased to 112.9, from 112.5 in January, indicating that it is fear rather than an already felt decline which is troubling German companies.
Earlier this morning, the German statistical office had released details of GDP growth in the final quarter of 2015. The data showed that growth was mainly driven by consumption, more from the public than the private sector, and the construction sector. Net exports had been a severe drag on growth, with (QoQ) exports actually dropping for the first time since 2012. Although looking positive at first glance, these GDP data are already telling a slightly less optimistic story about the German economy. Despite the strong labour market, low inflation, low oil prices and higher wages, private consumption growth slowed down in the final quarter.
Back to today's Ifo index. As so often in the past, even though they probably represent the most internationally-oriented companies in the world, it took German companies a while to realize that the world outside of Germany has changed. For a while, the cooling of the Chinese economy and the slowdown in emerging markets was more than offset by strong demand from the US and a rebound of activity in some Eurozone countries.
Currently, however, as low oil prices are denting US growth prospects, the US economy could no longer be the strong safety net for German exports and industry that it was in 2015. As paradoxical as it might sound, low oil prices currently seem to do more harm than good to the German economy.
All in all, today's Ifo index sends a strong wake-up call to the German economy: the easy and carefree life on the "island of happiness" seems to be coming to an end. For the time being, solid domestic activity should avoid any real negative surprises. Growth on the back of the public sector, consumption and construction activity might shield the German economy from external headwinds, but is clearly not a strategy for sustainable growth in the medium run. Just ask the majority of Germany's Eurozone peers.