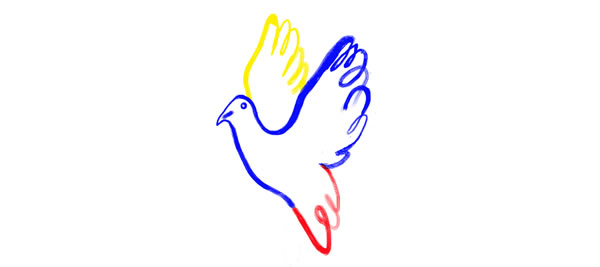 The Colombian community in Brussels gets together in the face of uncertainty following the rejection of the Peace Agreement last October 2, through a referendum. "Manneken Paz por Colombia" is the result of a collective will to preserve the advances gained by the Peace Agreement signed on September 26, 2016.
On Friday, October 7 in Brussels, a group of Colombian citizens, and supporters of all origins have created "Manneken Paz por Colombia", a pluralistic and inclusive citizens platform, open to all those who feel concerned for the future of Colombia, in particular, within the context of the peace dialogue between the Colombian government and the guerrilla group FARC-EP.
In response to a special commitment, "Manneken Paz por Colombia" will host a cultural solidarity gathering this Friday, October 14, in Place de la Monnaie, Brussels at 5:30pm. We extend this call to all Colombians residing in Belgium, and to all citizens, to join us regardless of political or religious orientation and nationality, and to express their support to peace in Colombia. During this occasion, a "flashmob" is foreseen and will then be shared on social media.
The collective "Manneken Paz por Colombia", reuniting around 60 citizens, was initiated thanks to the initiative of two young political scientists from the Université Libre de Bruxelles, Monica Roppero Avila and Alejandra Mejía Cardona. The collective's aim is to coordinate joint actions with similar emerging groups and movements in different parts of the world who manifest their support to a negotiated agreement.
"Manneken Paz por Colombia" welcomes the message of hope given by the Nobel Committee in its decision to award the Nobel Peace Prize to President Juan Manuel Santos. "Symbolically, this is a recognition to the Colombian people, to the victims of this conflict and to all those who have tirelessly put efforts together in achieving peace", says Monica Roppero Avila joined by Alejandra Mejía Cardona.
Lastly, the name of our collective is not coincidental. We wanted to pay tribute to the Manneken Pis and to what it represents for Belgium. Just like this Brussels landmark, we are ordinary citizens ready to take action against the least spark of violence.
Colombian citizens in Brussels rally for peace in Colombia, Place de la Monnaie, Friday, October 14 at 17h30,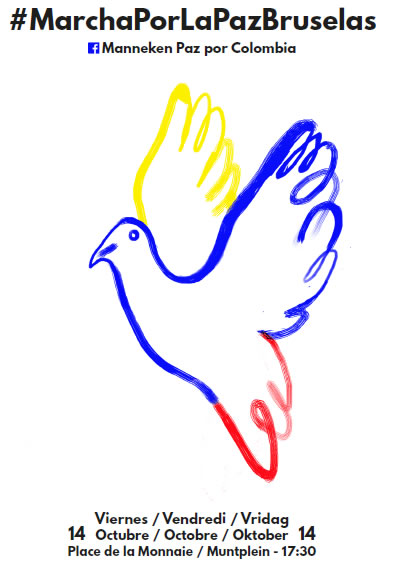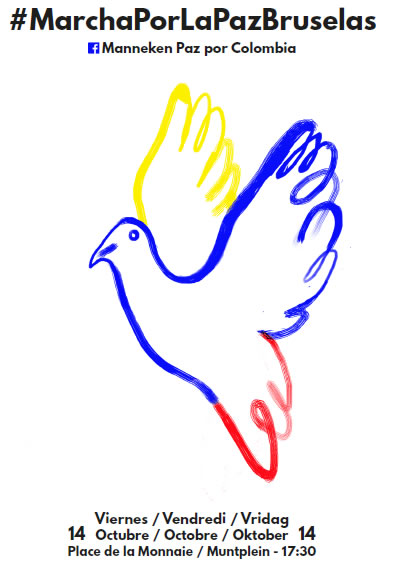 Share this