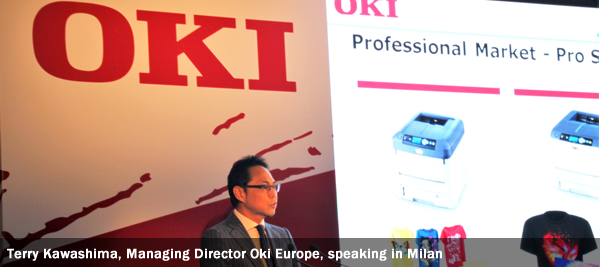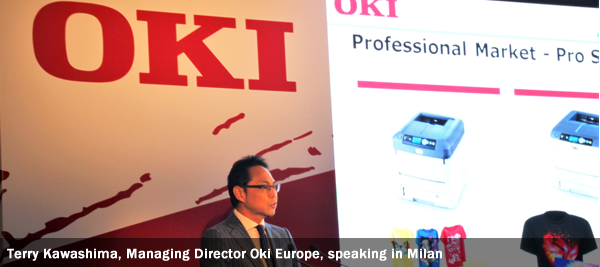 Europe's SMEs are set to benefit from what promises to be a democratisation of smart printer technology.
One of Europe's leading printer brands, Oki Europe, has launched a new range of colour printers and multifunction printers (MFPs) aimed at making the smartest print technology attainable for businesses of every size – from retail and office printing, to healthcare and professional creative graphic arts.
"The way businesses communicate needs to change", remarked Oki Europe Vice President, Tetsuya Kuri. But how can printer technology bring new benefits to business in an advanced digital era? According to Kuri, print material provides a smarter more direct and targeted communication, a high level of personalization and eye-catching colour graphics.
With this new launch, Oki is renewing its extensive range of products, none of which have now been on the market for more than three years. Oki Europe, established over 60 years ago, is a division of OKI Data Corporation, a global business-to-business brand, which is a subsidiary of Tokyo-based Oki Electric Industry Co. Ltd. The company, which was a pioneer in developing digital LED printing technology, said it aims to keep leading the industry with high-definition, eco-friendly printing devices.
"Oki's smart printers enable every business to maximise the benefits of a digital transformation and so become more efficient and competitive. It will help to streamline workflow and keep digital documents organised and secure, but also accessible," said Tetsuya Kuri, EMEA Vice President Marketing, OKI Europe, during the launch of the new range of products, in Milan, attended by EBX.
The expansion to Europe hasn't been easy for Oki, which faced strong competitors and a challenging adaption to the specific demands of European clients. "Because of the new arena, we learned over the journey that there were more challenges that we needed to better understand," recognised Managing Director of Oki Europe, Terry Kawashima, in an interview with EBX.
Milan was selected as the stage to launch the new range of products; Italy being one of the countries that holds the most growth potential; on account of the country's market size per capita. Because of the importance of small businesses, Oki's Managing Director also highlighted the high number of retail businesses in France, a market offering significant growth opportunity for Oki.
When it comes to print for healthcare purposes, every country across Europe presents expansion possibilities, because Oki has never been the biggest in any European country. But overall, the company has steadily developed a more solid base in the last three years.
Bound by the motto "secure, easy, smart", the new range of products launched in Milan takes smart printing and document management possibilities to the next level; with the possibility to print all business needs in-house and on demand, saving money, time and storage space.
Through OKI's open platform sXP (smart Extendable Platform), the devices enable connection to document management software SENDYS Explorer LITE at no extra cost, providing a highly cost-effective route to secure document management and control.
Favouring ease of use, a customisable 7" touch-screen enables more visual management of diverse functions. The newly incorporated features also include connectivity improvement to enable a fast transfer of large colour files across a network and allow mobile printing.  Security features now included as standard, such as Private Print, help keep confidential documents safe, with optional Card Release and Internet Protocol Security (IPSec) compliance now available.