Even for a seasoned flyer, approaching the primary Maldivian island of Male instils a sense of foreboding, a rustling in the gut that sends the brain into frenzy. Will he make the runway or hurtle off the end?  Slamming into what arguably could be one of the most beautiful green seas I've ever seen.
The island looks barely strong enough to hold the vast buildings that are crammed onto it. Male is the densely populated capital of the Maldives, and from the air, there is scarcely a place to park a moped never mind a plane.
But people come to the Maldives to escape to the archipelago of islands, 1200 in total, although only 200 of these are habitable. The islands are separated into coral atolls, and if like me you feel the need to escape to the farthest, Robinson Crusoe -esque, another plane is required. A seaplane to be precise, were the captain abandons his flip flops beside the pedals, preferring to fly au naturelle.
While waiting for the seaplane or rather Maldivian bus to arrive, you are escorted to a rather luxurious holding area, were fresh cold face towels and locally squeezed juice are the order of the day. From here you can see the planes circle and land, skimming along the water, the metal albatross of the sky.
The hostess calls discreetly and its time to load up, cases are stored at the back of the plane, stepping over them in stilettos is somewhat hazardous and not recommended. The plane chugs and rumbles through islands, periodically landing at mid sea pontoons, dispersing passengers, suitcases in hand, children under arm, Hawaiian shirts blinding the wildlife, like food parcels targeting the African plains.
Turnaround time is swift, with many islands and a repetitive journey every 45 minutes, the captain doesn't waste much time waiting for the awe struck visitor to soak up the views.
30 minutes after leaving Male, we arrived at the Coco Palm Dhuni Kolhu part of the Coco Collection.
Coco Collection is one of the most prestigious chains in the Maldives, established in 2007; it has gone from strength to strength, developing a brand that caters to every taste, from a private island to a 5 star activity luxury resort. The owners take pride in employing local people, and they in turn take pride in showing off the beauty that they call home. Every morning you are greeted with a brilliant wide smile and a 'good morning' that even the worst morning person couldn't battle a reciprocal smile to.
After being safely deposited at the Coco Palm Dhuni Kolhu, you are guided to the straw thatched reception area, a larger version of the villas that wait behind the dense tropical vegetation.
The island sits in the Baa Atoll, which is well known for its amazing fish life, stunning white beaches and turquoise lagoon.
From here, it becomes somewhat of an exciting challenge, through pathways, lined with dense bush, past each villa, smothered in darkness. Robinson Crusoe reappears. Thankfully to break you in, a lovely concierge escorts you to your villa. Pay attention to the way though, especially at night, as after that, you are on your own. Stumbling into neighbouring gardens, bumping off wooden signs and trees planted by lovers to mark their vacation, all very reminiscent of a slightly worse for wear Oliver Reed after a sniff of vodka.
Hunger is the last thing you will die from on the island. Small it may be, but the food is plentiful. There are two restaurants, Cornus Seafood Grill and Restaurant, which you've guessed it, serves very fresh seafood, as well as dishes from Asia, Thailand and Sri Lanka and the Cowrie.
The Cowrie offers a delicious buffet of Asian and European food, it's very laid back, turn-up, slip the flip flops off at the door and let the aromas guide you around. The staff are exceptionally helpful, even baking gluten free bread, now that is service.
Being an island, naturally shells are everywhere, the restaurant is named after the cowrie shell; it was used as a form of currency many years ago and still remains a symbol of wealth in the Maldives, although you will need actual dollars to eat.
Glancing at the clear skies at night is only punctuated by the flying birdlike creatures. One word of caution after dinner, or more specifically at dusk, the fruit bats have a tendency to swoop and fly low around the island, they too are either mesmerised or slightly blinded by the beauty and darkness.
This island is one for the adventurous, each day there are various activities, from a free dive session, this is one of the only islands with a PADI dive centre, snorkelling with the turtles or afternoon fishing. For tranquillity, you can always practice yoga.
There is a resident marine biologist, Chiara, she will happily explain about the marine life and take you snorkelling on the reefs, pointing out the individual turtles. Turtles are of utmost importance here and Coco sells turtle toys to visitors to raise awareness and money in support of preserving the turtles.
The house reef varies between 8 and 15 metres from the beach. Wander into the warm waters and immediately see the fantastic creatures that you've just interrupted at home. House calls welcome though, none of them are lethal.
The spa offers many pampering treatments, each suited to the laid back nature of the island.  There are also movies to watch on the beach – Blackfish is one of the best. Blackfish tells the story of Tilikum, a performing killer whale that killed several people while in captivity.
Along the way, director-producer Gabriela Cowperthwaite compiles shocking footage and emotional interviews to explore the creature's extraordinary nature and the species' cruel treatment in captivity. It pulls at your heartstrings and given your island adventure, leaves you contemplating the fate of such majestic surroundings.
There are 84 beach and deluxe villas, 12 lagoon villas and two sunset lagoon villas; plunge pools, outdoor bath and shower – all totally private – private terraces, and a lovely bed spread of hearts in red rose petals, just for the romantic touch.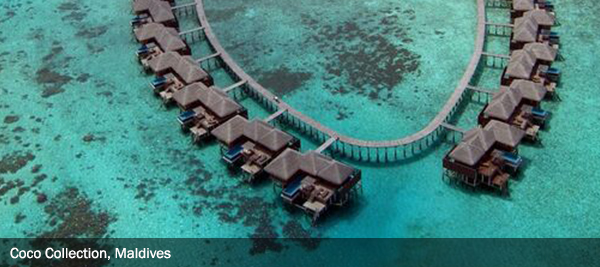 Moving from Coco Palm Dhuni Kolhu to Coco Boduhithi is a plane ride and a short speed boat ride away. Imagine James Bond racing with his white pristine speed boat; this is similar, very similar. The boat ride takes about 40 minutes from Male, and before long you have arrived at yet another pristine island. Smaller yet perfectly formed. Champagne greets you on arrival, what better way to start your next adventure.
The villas here are simply stunning, you have your own private pool, split level villa with open plan marble bath and a walkway to the beach. This island is high calibre; there is a private cinema, private photo shoot and in villa barbeque with your own chef. They can organise a private sandbank picnic for you or a pergola dinner, discreet and romantic.
There are again a variety of events throughout the stay, none or all of which you can partake in, the seafood barbeque is particularly good, as is the Maldivian night with 'Boduberu' a local band at Latitude, the cocktail bar with the envy inducing view .
Each of these restaurants are named after natural elements; Air, Aqua, Breeze, Stars, apart from Tsuki and Latitude.
For such as small island you will be spoilt for choice on where you eat, Aqua is the seafood specialist, aptly located over the water. If like me after dinner, you get caught in a torrential down pour when walking home, as is the want of Maldivian weather, the head waiter will escort you; plastic rain coats included and change the fuse in the electric box while he's there. Did I mention the exceptional service?
Do try Tsuki as well; it is the Japanese restaurant, offering an authentic traditional experience. Again, mind blowing considering you are on an island that measures the same as some stately homes in the Home Counties.
Water sports include free equipment hire and if you are lucky you can spot pods of dolphins, black tip reef sharks and turtles. There tennis courts are for the brave hearted, playing in those temperatures may induce a seizure, not that I'm medically trained.
When it's time to pack up, not that you do this yourself, I defy you not to feel a sense of loss, interspersed with hope and longing that you will one day visit these islands again, either before they sink or the Pound devalues so much that a mortgage will be required.
For More Information:
Coco Palm Dhuni Kolhu www.cocopalm.com
Rates for a Deluxe Villa at Coco Palm Dhuni Kolhu
Cost per night: from $504 US/approx. £358 per villa on a bed and breakfast basis. Villa rates, meal supplements and transfers charges are subject to applicable GST tax, Green tax and 10% Service Charge. The GST will also be applicable to all goods and services provided at the resort.
About the Deluxe Villas
Nestled amid the lush vegetation on the Eastern shores of Coco Palm Dhuni Kolhu are 27 Deluxe Villas providing ultimate exclusivity. Complemented with items reflecting traditional Maldivian touches, these spacious villas enhance the rustic romantic feel of the island with a four poster bed, sunken bath in the open-air bathroom and a private fresh-water plunge pool on the outdoor terrace. Wake up to the gentle sound of the waves brushing against the shore and just a few steps further along your own pathway canopied with lush greenery, awaits the soft white sandy beach lit up with the rays of the rising sun.
Coco Bodu Hithi www.cocoboduhithi.com
Rates for an Island Villa at Coco Bodu Hithi
Cost per night: from $910 US/approx. £627 per villa on a bed and breakfast basis. Villa rates, meal supplements and transfers charges are subject to applicable GST tax, Green tax and 10% Service Charge. The GST will also be applicable to all goods and services provided at the resort.
About the Island Villas
Coco Bodu Hithi's spacious Island Villas are artfully designed retreats that combine the best of traditional Maldivian design with the latest in personal luxury.
Open plan, yet intimate, each villa includes a feature bathing area where guests can submerge themselves in the large central tub, relaxing master bedroom with comfortable king-sized bed and a sunken living area with sofa, flat screen TV and personal bar.
There are two outdoor spaces where guests can relax and unwind. The beachfront terrace overlooks the stunning crystal clear ocean while the private garden is the ideal way to experience sunshine filled days with sun loungers, day bed, swimming pool and outdoor shower.
Additional amenities include a DVD player, music system, espresso machine and private safe.
Share this