Athenaeum, London. Blissfully British.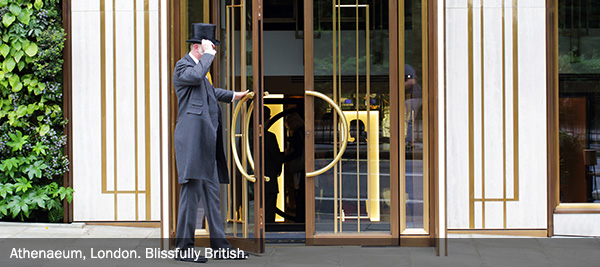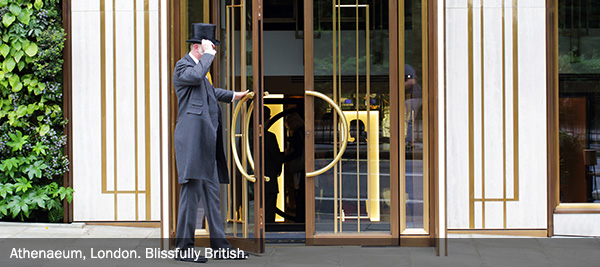 Throw a Coutts card over your shoulder in London and you won't have any trouble securing a five-star boudoir, complete with brass door knobs and chocolates on your pillow, especially in Mayfair. The affluent beating heart of the city. But is that what you want? What distinguishes the garish from the graceful? The ostentatious from the outstanding? Well, a stay at the Athenaeum is a promising start.
Not quintessentially English, there is afternoon tea with a twist, and an English garden – albeit cultivating on the side of the building – yet you feel right in the heart of the 'establishment' sans British bulldog.
The doorman is dressed in the required attire, tentative and welcoming. The bulldog has been replaced by a statue of what appears to be a Great Dane and the glass panels from floor to ceiling indicate a well thought out architectural marvel, unlike some of the more traditional five stars in the area.
The lobby area is full of business clientele who have nipped in for an impromptu mocha latte to discuss the latest merger. Yet, it's delightfully relaxed. No need to stand to attention here. Throw yourself down on the yellow velvet chaise long and eaves drop on how to get that Coutts card, if you don't already have one.
The rooms are ready when you are. Chic and refreshing with ample mod tech capable of inspiring Bill Gates. A 52-inch television presides, square in the middle of the wall, faced by a comfy sofa – this is where it begins, the process of relaxation and ultimate sleep. More on that later.
Mirror, Mirror…
Mirrors are everywhere. The refreshment facilities have mirrored doors, along with the state of the art Nespresso machine. Incidentally, fresh milk is in the fridge, for those of you like myself who detest the cream substitutes. The paintings are framed in glass and the bathroom, well, let's just say you had better have a sound self-opinion to spend too long in there. But it works.
Mixed with the new fashion is old style. A vintage writing desk, and a four-poster bed. A 'Say Hello to Sally for Me' book with a fetching red dust cover rests on the bedside table, a memoir to Sally Bulloch, former General Manager. A one of a kind artwork hangs beside the bed. A fetching box like creation of Queen Elizabeth II surrounded by the Queen's Guard, just to remind you of where you are. If in doubt, look out the window at the plushness of Green Park with Buckingham Palace a stone's throw away.
Sleep Deep
A wise person once said 'sleep is my drug; my bed is my dealer and the alarm clock the police'. Athenaeum is the kingpin of sleep! Everything is geared towards ensuring you have the best night's sleep possible. The hotel has endeavoured to source the best bed in the world. Hypnos who supply them have held a royal warrant since 1929, if its good enough for Her Majesty, who are we to argue.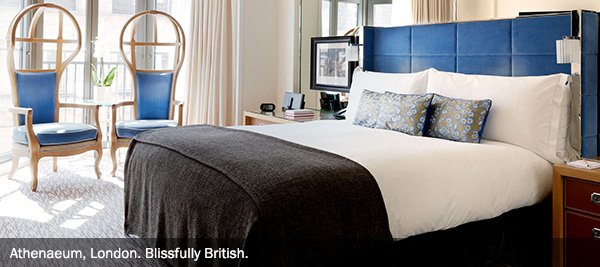 Choose your pillow from the pillow menu, try the 'Buckwheat', a traditional Japanese destresser or the 'Tempur' offering to relieve pain. Order a herbal tea, have the room temperature adjusted, have an Adam and Eve handmade bath bomb delivered, along with a cooling eye mask. You can ask for a white sound machine to play sounds of the sea, rain or simply white noise.
A complimentary bottle of wine is also delivered, so if all else fails, try that, though I doubt that it will be needed.
One sure fire way of setting you up for reaching the blissful highs of REM is to dine well. And dine will you shall at Galvin at the Athenaeum.
The Galvin brothers pride themselves on exquisite cuisine. And that is exactly what they have brought to the Galvin restaurant. Chris and Jeff have stepped away from their French influences and instead are focusing on English produce. Black figs, goats curd, Woodall's Cumbrian dried ham for starters followed by the haunch of Cartmel valley venison with quince and celeriac. The Valrhona chocolate tart literally finishes you off.
If you have the capacity, nip to the bar. It is secluded gem in these parts. Cozy and intimate, it has a large whisky collection, craft spirits and signature cocktails. The cocktails are each listed on cards, shuffle the deck, take your pick and see where it takes you. Giancarlo won't let you down, pyrotechnics don't detract from the unique flavor of his creations.
As you retire to prepare for the best sleep of your life, a quote can be found in the beside portfolio, it recites a Virginia Woolf quote that one 'cannot think well. Love well. Sleep well if one has not dined well'. The Athenaeum ensures that you do all four, well three of them at least, the love part comes later.
Information:
Rooms from £240 incl. VAT. The suites are stylish, spacious and available from £599 incl. VAT. The Penthouse Suite is available from £2,280 incl. VAT.
Private Residences, the serviced Residences offer guests their very own Mayfair front door for short or long stays along with fully equipped kitchen, spacious living room, bunk beds on request and twice-daily maid service. Residences are available from £540 incl. VAT.
To book: www.athenaeumhotel.com