'Obsession' – The Oxford English Dictionary describes this as 'the state in which a person's mind is completely filled with thoughts of one particular thing or person in a way that is not normal'. They should change it to 'Aurora'.
Everyone that visits Swedish Lapland in the autumn, through to winter, is obsessed. Obsessed with seeing the green lady, praying and gazing at the sky like children waiting for Santa. Listening out for sounds, a change in the mood, a whisper in the trees, anything. Hoping for that elusive glance colours; green, blue and if you're lucky pink. Dancing just for you across the night sky.
Of course, it's not that easy. This is nature after all. It will take its own sweet time. But my goodness if she does show up, your heart explodes, your soul somehow intrinsically linked to this heavenly apparition, you will never be the same again. And by the way, once is never enough. You will arrive home with a permanent creak in your neck from straining, you'll see things that aren't there, develop a type of psychosis that lasts until you get your next fix.
Junkies, Aurora Junkies
It's all tourists talk about. Over breakfast, in the restrooms, in the taxis (if you can find any), there's a form of oneupmanship – 'who saw what?'. Women fawn over pictures in a maternal state, as if parading their offspring at a beauty pageant. The stage is set. The star attraction has no cue. Wait, watch and listen.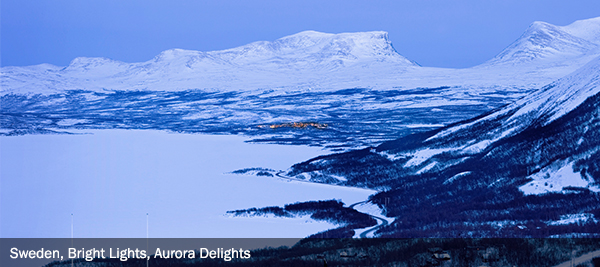 In the midst of all this palaver is Swedish Lapland itself. A vast country north of the arctic circle that is filled with open space, activities, food and friendly people. I feel slightly sorry for them. It's like being the younger, less famous, over looked sibling. Prince Harry to Prince William if you will.
The staff must become incensed, although they don't show it, by tourists constantly asking when they might see the aurora. As if they knew. If they did they'd be millionaires. So, the rest of this unbelievable country for a millisecond does become overlooked. Yet when you take a second to stop and look around. Its leaves you wondering why you took so long to visit.
Flights of Fancy
It's not difficult to get to. Flights arrive into Kiruna daily from Stockholm. It takes just over an hour. The petite Kiruna airport is on the outskirts of the town. A town that is in the process of being moved, brick by brick, 3 km east so that it doesn't fall into the mine. Without the iron ore, the town would come to a halt, so it's an evil necessity, one the town is embracing for the sake of its future.
At the heart of the town is Camp Ripan – a series of cabins circle the main reception and restaurant, all built from sustainable materials in keeping with the local landscape. The cabins are unique, and thankfully, warm.
The ski box at the front door is a sign of things to come, but there is plenty on offer if skiing doesn't float your boat.  Not that there are many boats floating, all rivers and lakes are frozen in the – 25 temperatures. So, if like me you turn up ill prepared in a ski jacket with one pair of salopettes, fear not, the staff will provide you with proper Nordic gear, complete with furry hat.
Cabin Fever
Back to the cabins; they are made from wood, with a practical kitchen, shower room, comfy beds and TV. You won't spend much time here, there's too much else to do. My suggestion to the concierge of having a bell that they can ring, like in Victorian houses, when the Aurora appears didn't fall on deaf ears. It saves you dashing in and out every ten minutes in the early hours of the morning, furry hat flapping in the wind.
Nipping to the spa is easy, be sure to dry your hair before you leave, icicles will form.
It was born from thoughts of combining nature and tranquility, and it does just that, taking you on a journey from start to finish. You receive a bucket when you arrive. All 14 steps add up to a promising finish. This is no race though, linger if possible. Bear in mind it does get busy and you must book.
The bucket has a list and contains pine oil, coffee scrub, juniper berries and birch leaf scrub. The birch is symbolic of Camp Ripan, it is one of Scandinavia's protected trees, rumoured to have medicinal properties. Not only that, it has been used in the architecture of the hotel, it adds warmth, is light and airy, and immediately brings you closer to the three cultures of the Swedish, Sami and Torne Valley Finish that live harmoniously here.
Ida Maria is one of the Sami women living nearby. When I say 'living', it's more of a repeat visit, as she explained to me how the Sami people move with the reindeer and survive off the land. She has set up Sapmilife, to explain how the seasons dictate Sami living. It's fascinating. You can sit in the warm lavvu (or tent) around a fire, and taste fish, reindeer and lingonberry juice, using the senses to experience the seasons.
Buttery Reindeer
Food has a special meaning, try the Kiruna underground mine's shiitake mushroom soup, served with sliced smoked reindeer. As mentioned, the mushrooms are grown in the mine and have a very distinct buttery taste. Reindeer filet served with lingonberries and Swedish potato dumplings for main, followed by homemade chef's selected chocolate truffles. It sets you up for the Aurora hunting night ahead. A room has been built especially for cooking demonstrations, immerse yourself in it, a fascinating ensemble of culinary expertise.
Further into the Circle lies Bjorkliden, one hour from Kiruna. A magical train journey takes you there and to Hotel Fjallet. When disembarking, I was slightly nervous of finding the hotel, and how I would know which one it was, presuming that the name wasn't a giveaway. I need haven't worried. There was a minibus to pick up guests and I was informed that there is only one hotel. I was also informed that it was a ten-minute walk, thankfully I didn't have to experience the walk uphill through -30 temperatures with a flimsy pair of boots. Ski season starts in February, but the locals don't attempt it until March. The frostbitten fingers that I received tell me all I needed to know as to why. They are sensible, I am not.
The hotel has a sauna and good local food, all you really need after a day on the slopes; that and a good doctor.
Klas Ekdahl, ex Scandinavian Special Forces Sergeant and owner of my next stop, Abisko Guesthouse, explained that you can't be too careful with the weather up here. 'It's harsh. Beautiful but harsh'. Take it for granted and you will not only leave with amazing memories but desensitised fingers. Ones that can take up to a year to recover.
Klas has been in this game a long time and has expert knowledge. He can organise anything you want, snow mobiling, ice climbing, the more challenging the better, all within reason, safety first. The summer is just as magical, the midnight sun means that you get to experience everything on offer without the brain freezing cold.
Autumn brings the aurora, along with the change of colours, trees shedding making way for winter. Seems odd that they shed in preparation for freezing, makes more sense to keep everything on, piled up and protective. Like I should have done. Then again, that's nature, no rhythm nor reason. It knows best.
And so, the obsession continues, fueled by glimpses, stoked by the wonderment of this arctic circle landscape, food and people. Let's revert to bucket and lists, no wonder it's on everyone's.
More Information:
Camp Ripan – www.ripan.se
Ida Maria Svonni – www.sapmilife.com
Hotel Fjallet – www.bjorkliden.com
Abisko Guesthouse – www.abiskoguesthouse.com
Share this