Today, 'in conversation with' typically means via webcam, Sarah Jayne had the pleasure of spending an hour chatting to the very affable Chitra Stern, a formidable businesswoman with strong values and even stronger ambition.
Chitra is of Indian heritage, spending time in Singapore and London before marrying Roman, her Swiss husband and relocating to Portugal in 2001. Moving to the 'California of Europe' their plans were to spend 5 years, 16 years later there is no question of leaving.
Having studied electric engineering in London before embarking on her MBA at the London Business School, she worked at Price Waterhouse Coopers before starting her first business from the garage. She has since been the recipient of the prestigious Deloitte Institute "Accomplished Entrepreneur Award" at the London Business School, "Person of the Year" Award by the international Family Travel Association and the "Family Traveler Award" for special contribution to the Family Travel Market.
Owner and founding board member of Martinhal Family Hotels & Resorts, a luxury hotel chain that began in Sagres in the Algarve and has now expanded to Chiado, Quinta and Cascais.
More recently, she has worked on commercial real-estate projects and an Education Hub project in Lisbon, between the Park of Nations and the airport. The school, United Lisbon International School opened in September 2020. The school forms part of a wider Edu Hub– with innovators, tech companies and an academy that all have something to contribute to education.
Chitra was on the Committee of Portugal IN, a special task force created by the Portuguese Prime Minister's office to further enhance Foreign Direct Investment into Portugal. She is also an invited professor for Luxury Marketing at the Nova School of Business and Economics and is President of the Entrepreneurs Organization in Portugal.
Chitra did all of this while raising 4 children.
EBX: You moved to Portugal from London in 2001 for business opportunities including the hotel industry, what were they? why Portugal?
I spent time in Cork with Roman after I completed my MBA, this was where I had my first exposure to the hotel world. There was a small boutique hotel being renovated, Roman managed the project and this led to a small real estate project in Zurich, where we earned our first capital. This was the time when Google was just on the scene. The internet business model was key. My first business venture was called Cybermeals, a digital start-up, a cross between Netflix and Uber Eats, however there were technical difficulties, one barrier was not having a logistics centre. Then a group of investors showed us Croatia and Portugal. Croatia had just come out of a war. Portugal was amazing, part of the EU for 15 years at that time, it had just held the World Expo in 1998. The EU had supported this event through infrastructure, capacity at airports was increased, connectivity increased, it was an undiscovered gem in western Europe, with 900km of beaches. I had just got married, read a book called 'Blink' and had the ethos of being young and anything is possible. So, we moved to Lagos in Portugal and started our first business in the garage. It was not just a gut decision, we had the data, at that stage Brits were coming and the Irish were beginning to, the food and wine culture were undiscovered. It was a hearts and minds decision.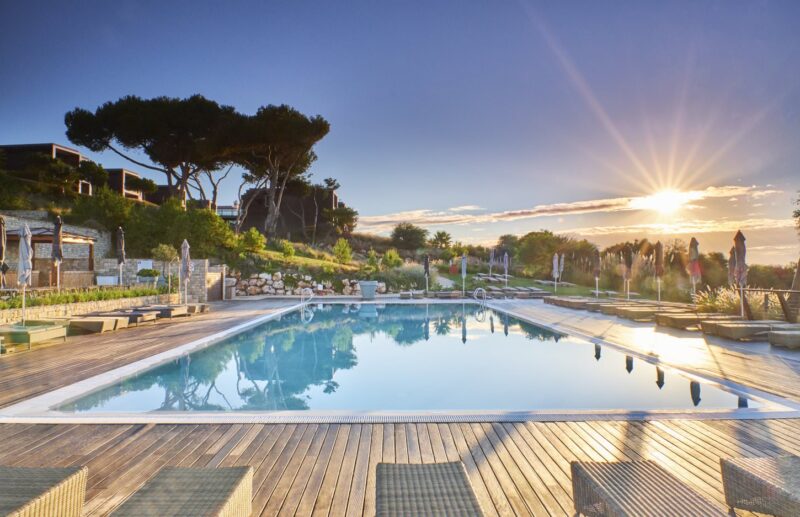 EBX: Tell me about the Martinhal Family Hotels & Resorts. Why the move into hotel residences?
I wanted to do something with a deeper impact, to deliver a five-star project as an anchor project. We opened the first hotel in 2010 in Sagres, in the middle of the global financial crisis. There were many blood, sweat and tears shed. I wanted to develop a parent resort, not a children's resort. I realised that many people could not got to the resorts they loved as a young professional couple. This was the differentiator, a parent friendly hotel. It still offers a great time, but with healthy options for children and their parents. The design is such that parents also want to hang out, its not a kids club. From 2014 – 2019 there were lots of expansion opportunities, the banks were more willing to lend, golden visas and start up visas were available, and we had a good reputation, so we organically grew into residences. We came across land in central Lisbon's Park of Nations, we wanted to build an urban resort. It is one of the first branded residence projects in Portugal. It is currently under construction; it will launch in 2022. There are 153 apartments; 50% are residential, 50 % investment units, hotel units. All rooms are high end and furnished to the highest spec with services that people expect, as they would in New York or Miami. We are very proud of that. Why branded residences? we want to do projects we are excited about, we are learning all the time, diversification of our portfolio. We had done a bit of the same in Sagres, there are some people living there, although those were acquisitions. We saw the market evolve. Lisbon has become a highly cosmopolitan city, Brazilians arrived in 2018, Americans now, we thought it was the right time.
EBX: What was the thinking behind the United Lisbon International School? How did you move from hospitality to education?
Four years ago, I was approached to join a Special Task Force on foreign direct investment reporting into the Portuguese Prime Minister's Office, the Ministry for Economy and Tourism, government departments and Portugal Global to help develop foreign direct investment. I was the only foreigner. But I lived here, invested here, I wear Portugal on my sleeve. One of the weaknesses I identified is that Portugal needed more international schools if we were to attract more FDI. My kids always went to international schools. We moved to Lisbon in 2016 and realised that there were no international schools in central Lisbon, they were all in the western Lisbon area, in Cascais. We wanted to live in the Park of Nations, the airport is very close by, however we could not live there because there were no schools. I identified the problem and discussed it with Lisbon City officials, we believe in education as one of the key drivers for change. Mayor Medina said 'absolutely' , however we ended up doing it ourselves. There was an industrial building lying empty, we saw a real estate opportunity and I began to scope out connections in the education sector. We sourced finance and engaged with the International School Services in Princeton, New Jersey, this evolved into the perfect partnership. We opened in September 2020, it was tough given the pandemic, we had a target of 160 students, and we opened with 150. We have 280 enrolled for year two.
We pulled a great team together. This is the key to success, it helped us think outside the box, we recognised we needed people with skills. Building great teams is one of our mantras.
EBX: What motivates you most – in practical terms, and in emotional terms?
I get up every morning full of passion and enthusiasm for what I do. I find motivation everywhere, in my children, my family. Roman and I are building something together. People say is not it hard to work with your husband? no we spend quality time together doing what we love. You do need resilience- but do what you love. I believe in global unity. The school in Lisbon is called 'United Lisbon' International School. I have a sense of doing good for society as an entrepreneur. I believe in job security and education for responsible citizens for the future. I believe in gender equality.
My husband and I are a mixed-race couple, from different parts of the world. I came from a family that had four boys and two girls. I had the huge fortune that my mother received a university education in science, however my father came from a village where girls stopped education at 12 or 13. My parents believed in education and ambition, that was the top thing in our family. My father made us dream of being Margaret Thatcher or Gandhi. The sky was the limit. There was no stereotyping, we all went to university in England. It was the mindset of education.
I believe in staying united to solve world problems. We are doing good for society, being responsible citizens. I still engage in a lot of pro bono work.
EBX: Who have you learnt most from? What are the five key lessons you learnt from them?
I have learnt lessons from various people, but the foundations came from my parents. Dad was an entrepreneur, mum joined him in the business and they worked together. I learnt entrepreneurial thinking, those evening conversations, about the challenges, my dad said 'don't become an entrepreneur go for the corporate world' though. Also, I found a partner who believed in gender equality and wanted to be an entrepreneur, so it was destiny as well, I learnt entrepreneurial thinking, they gave me a lot of self confidence and self-belief. Instilled grit and resilience. I saw that through their lives, generosity as well, my parents are two of the most generous people I know, and I learnt that from them alongside compassion and empathy.
EBX: Which nations do you admire most in terms of business acumen? Why?
From a young age Singapore. Singaporeans were taught to learn from the best, if they needed to build the metro, they looked at the Paris Metro for example or the London Underground and implemented the best from benchmarks. This is our philosophy as a Swiss, British, Singaporean couple in Portugal. We learn from the best for each part of our business. Strategic thinking from the Singapore government, Switzerland with its consensus-oriented thinking and its conscience in everyday life. My husband taught me a lot about building consensus in a team. I admire Germany for its Mittelstadt, building solid, medium size and large businesses with a long-term approach. I admire America for its 'let's do it', 'let's get going' entrepreneurship, in Portugal there is always the heart, they are very flexible and work well in a crisis, they like to find a solution. There is a lot to learn from the world, for example design thinking from the Brits. I believe in the best of global approaches and weave it into your business philosophy.
EBX: What is the single most important principle for creating a successful business?
Build a great team.
EBX: What is your single most important source of inspiration, and why?
I did drama at school and there was an Australian guy that came on one of the workshops who told me my name means 'picture portrait'. Chitra, in Indian Sanskrit and Tamil means portrait. He connected me to this bird that gathers something from different places, he said 'that's what you are'. I find inspiration in my day to day, I feel grateful, I think gratitude is one of the most important things that keep you going. I feel inspired and grateful every day. That is one of my personal gifts, to look for inspiration every day in the blue sky, the beautiful trees. I was excited about the mass vaccination drive. That we have found a vaccine, not just one but so many vaccines, in a global movement, in less than a year. People are queuing for the vaccines, one of the most successful vaccination drives is in Portugal. I find inspiration in how other people do things better than I do, I just watched a video with my daughter today about this woman who does 3-day trips to Europe and packs everything in one bag, that's still a trick I am learning, with 4 children. I have a learning mentality as well, always something new to learn, lifelong learning.
EBX: What impact has Covid had on you directly? What are your business plans for the next two years?
It's tough with travel restrictions, it's been tough to manage the travel business. I don't have a crystal ball. During these tough Covid times people have had time to reflect and focus on what is important in their lives, we feel that leisure travel will become even more important, precious family time. People are not going to wait for later in their lives to take bucket list trips and hold family reunions. Portugal is well placed, even during the tough 14 months we had already sold over 65% of our units in the Residences off plan. Plan B's are now becoming Plan A's for people. Every day I meet new families who have moved to Lisbon, it is not too big and not too small, it's perfect. It's easy to navigate around, near mountains and natural parks and beaches. As an entrepreneur I am focusing on an optimistic future. It's been a tough couple of years, very stressful, but we are looking to the future with hope and optimism.
EBX: How do you see the European economy moving in the medium-term?
We have some good basics. We all restructured after the last global financial crisis, a lot of the hard work to restructure was done in the years that followed. Europe is still the most wonderful place on earth, to live and work. The EU has had these tough movements to face, with Brexit happening, I feel the mood is turning in the right direction. The US is pro NATO, pro EU, forging the way again with the EU in a positive direction. The populism movement is fading away, as we see what we need to do to face this pandemic and get out. Without vaccinating the world, we aren't getting anywhere. I feel positive for the future, we must be united to face any of the problems of the future, I think we are on the right track now.
EBX: Which recent innovations are impacting on your business?
Tech has had a huge impact. We are as small group of hotels. We were one of the first to offer concierge services via WhatsApp, it's so much easier for guests to ask questions, we started a few years ago. We have automated check in and check out, we already had an in-house system for ordering room service and home delivery and we didn't just offer three items, we worked hard to have a full menu. We want people to have choice for a week, it isn't just about convenience for us but convenience for the guest. We are working with European tech companies to innovate the guest services, to offer ease and convenience without removing the personalised service for the guest. I don't want us to become a hotel that offers only speaking to computers, we have a chat box be we hand over to a live person as soon as possible, otherwise guests get frustrated. We are a family-oriented hotel, families have questions that aren't answered just by computers. We are using a hybrid model, we are adopting tech, but we also have someone real. Key to this is our concierge team, we don't call them the front desk or office, we call them family concierge team. Even during one week of surge from the UK, when we had nearly 100% occupancy, people didn't feel it on resort, it was so well managed. The Covid testing was well organised. There were many cases of people who didn't get their test organised before they came. I started preparing for this two months ago with the GP's and the labs, that's my Singaporean/ Swiss training, trying to sort out the problem before we get to it. I am not happy enough with just dealing with it, what happens when we have 700 guests on site? We managed to get everyone a test, the local GP in the western Algarve, she's a great woman, she was on top of it. We have a tech-oriented mentality.
EBX: Who are your leadership role models? Why?
World leadership models; Gandhi and Nelson Mandela inspired me the most growing up. Also people who oversee opening, like Helmut Kohl, German Chancellor who made that happen. The German people paid extra taxes to integrate the German economy into their own. Angela Merkel, what a woman. 16 years at the helm. Role models can be for leadership in different formats. The long walk to freedom, it's the long term, and the small wins over a long time, you must have grit to get through it. Gandhi- how many years did it take to get to where he wanted to be? through nonviolence. Kamala Harris, her mother is from a Tamil Nadu village, the same as my mother. She's inspiring as the first female woman of colour to make it to the white house.
Share this