A well-thumbed, Wall and Piece, the 2005 autobiographical art exhibit book by anonymous English graffiti artist, Banksy rests subtly on a walnut wooden table.
A giant among the other works on display, notably a solid bronze statue flanked by a wrought iron partition, wall art made from wine bottles and a gigantic sculpture of a Henry Moore-inspired mother and baby lying on their side asleep by the pool.
Art, culture, and peace pervade at the Anantara Angkor Resort in Siem Reap, an all-suite luxury hotel just fifteen minutes from the Angkor World Heritage site.
Think of Siem Reap and undoubtedly the Angkor Watt Temples spring to mind. Paying homage to the 12th-century Khmer empire remains important, however a new generation is re-evaluating its heritage and cultural identity delightfully resulting in a thriving art scene that draws inspiration from its roots.
Some argue the unique energy emanating from the temples has formed a magical atmosphere that allows creativity to flow generating a plethora of buzzing art galleries and artistic hotspots. This, matched with Khmer dance and food, makes for a heady combination that warrants more than shuttling between your hotel and the UNESCO World Heritage Sites.
Saying that, once you arrive at the Anantara Angkor Resort, you will feel conflicted about how often you choose to venture further than its magnificent marble entrance.
A warm welcome awaits as does a cooling drink in the open-plan lobby, where more art dazzles.
There are only thirty-nine suites clustered around the eighteen-metre saltwater swimming pool. Palm trees and terracotta rooves with dark wooden balconies create privacy and opulence. Even with the Angkor Eye, an eighty-five metre Ferris wheel whirring slowly next door with it's bird's eye view.
If heights aren't an issue, sample the twenty-minute ride, preferably not in a thunderstorm. Should the skies open, staff will whisk next door to collect you in a covered tuk-tuk. Now that's service.
The suites are roomy and awash in the glorious colours of the Khmer era. Ochres are married with hardwood floors, dark wooden furniture, and sprinklings of artwork. The amenities are luxurious. A well-stocked complimentary mini bar, state-of-the art TV, Nespresso machine and a delightful free-standing Victorian bathtub with a rainbow shower add to the imaginative design. A 'welcome to Anantara' message on the bed crafted from fern leaves and elephants fashioned from towels is yet another nod to its artistic creativity, albeit at a lesser level.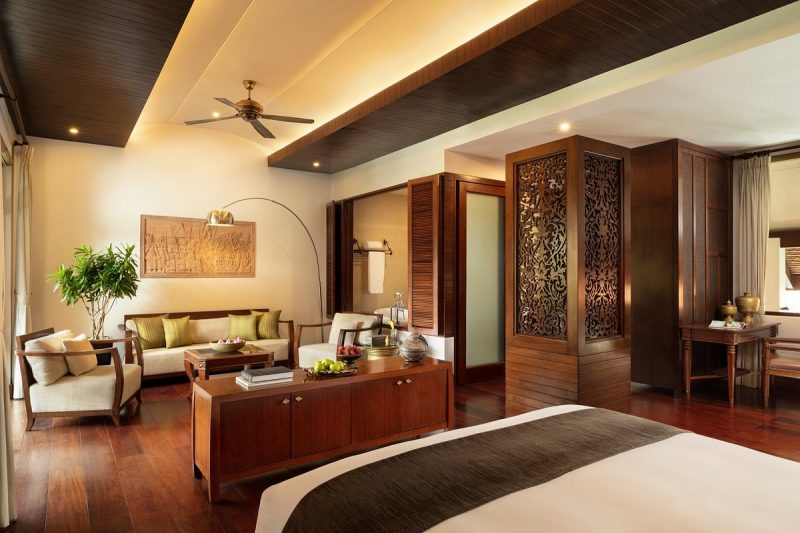 The Resort is well situated only a fifteen-minute tuk-tuk ride to the Old Market and twenty minutes to the Temples. The team will masterfully arrange day trips and advise on activities at the ruins and beyond. A countryside tour, ziplining, golf or a trip to Tonlé Sap, the largest freshwater lake in southeast Asia are on offer alongside the Temple tours.
If you have any residual energy after cultural immersion, there is a well-kitted gym. Although, a visit to the spa would be preferable. Underpinned by wellness beliefs inspired by the Seven Ways of Enlightenment, the spa provides experiences, not treatments. Sample the Ultimate Anantara Experience, a two-day indulgence of scrubs, wraps and massages. For the ultimate self-care, a wellness programme can be designed with doctors, personal trainers, resident nutritionist, and therapists, over three to five days.
A joy to behold.
If you are short of time, Himalayan Thermal Therapy using Himalayan salt stones will melt away tension and induce tranquillity more rapidly.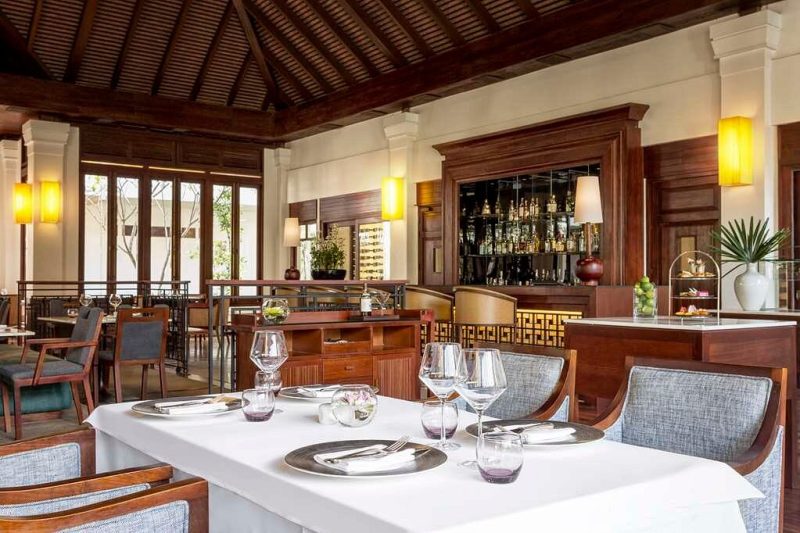 Phasing the outdoors in, The L lounge is a perfect space for literally lounging on soft cushioned sofas, breathing in the balmy air while admiring the craftsmanship of the water feature. Books, newspapers, high tea, and evening tapas are available. Inside, The Chi restaurant serves breakfast and dinner, both conjuring Khmer culinary marvels with a Western twist, such as Khmer omelette with pork or vegetables for breakfast or Royal Seafood Amok, Cambodia's signature dish prepared with a medley of barfish, squid and tiger prawns for dinner.
For the ultimate gourmet and cultural experience, unleash your imagination with Dining by Design. Curate your own culinary experience such as feasting on mouth-watering fare in the courtyard, while watching a private Apsara dance performance or taking a champagne picnic overlooking the West Baray reservoir at sunset. The possibilities are endless. Embrace the creative process like Banksy, anonymity is optional.
For more information visit Anantara Angkor Resort